U.S.: Count On Consumers To Keep Spending
But expect a more moderate pace as job growth and wealth gains slow
With the holiday buying season in full swing and the economy cooling off, all eyes are on U.S. consumers, and the watch will continue well into the new year. That's because household spending has played a major role in the economy's resilience over the past year, and the economy will need plenty of support from consumers in 2007 as the housing slump continues to take a big bite out of overall growth. Will households be up to the task?
The answer is yes, but don't expect the shop-till-you-drop pace of recent years. Spending growth after adjusting for inflation has already slowed from its peak rate of about 4% in 2004. Consumer outlays grew about 3% this year, and the pace next year might well be a shade below that. In the coming year consumers will receive support from the same two factors that buoyed spending in 2006: gains in income and wealth. They just won't be getting as much.
That hardly means consumers—and the economy—are headed for trouble. In fact, the forecasters in BusinessWeek's annual outlook survey see the economy chugging along at a slower but steady clip throughout 2007. And they believe consumer spending will continue to provide ample support.
FIRST, CONSIDER THE LABOR MARKETS. The Labor Dept. said the economy continued to generate plenty of jobs and wage income in November. Payrolls rose by 132,000 last month and, in what has become a regular pattern this year, Labor revised payrolls in September and October upward by a net 42,000 jobs.
Still, hiring has slowed. Through November, monthly job gains in 2006 have averaged 149,000 jobs per month, a shade less than the 165,000 average in 2005. Further slowing seems likely, as the current weakness in housing and manufacturing works its way through the economy in early 2007. And as hiring slows, so will income gains.
Boardrooms already are a bit more somber on economic prospects for 2007, based on the fourth-quarter CEO Economic Outlook Survey from the Business Roundtable. The executives anticipate steady growth in the first half of the new year, but the Roundtable's Economic Outlook Index, which assesses future sales, capital spending, and hiring, has declined for three consecutive quarters, to the lowest level in more than three years. Only 37% of CEOs expect their company's payrolls to rise in the next six months, while 40% see no change, and 23% anticipate a decrease.
For now, wage and salary income is holding up well in the fourth quarter, especially after factoring in the boost in purchasing power from lower gas prices. That extra buying power is giving a lift to holiday buying, as seen in the strong 1% rise in November retail sales from October.
However, if the economy is growing at a rate of about 2% in the fourth quarter, as many economists now believe, it will head into 2007 having averaged only a bit above 2% for three quarters in a row. That's slow enough to suggest the unemployment rate might actually tick up early next year, a factor that would only add to household uncertainty about prospects for jobs and incomes.
THE WEAKNESS IN PAYROLLS is concentrated in residential construction and manufacturing. Since June, those two sectors have lost 174,000 jobs, and more losses seem probable in coming months. Because of the lags associated with the completion of projects under way, overall construction payrolls began to post significant declines only in October and November, down 24,000 and 29,000, respectively. With housing starts still falling in October, further big declines this winter are likely. Recent measures of construction output have fallen far more sharply than construction payrolls, suggesting more layoffs to come.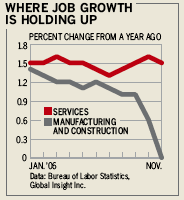 Manufacturing jobs are on a similar track. Factories are reeling from an inventory adjustment precipitated by overbuilding in housing and overproduction in the auto industry. Now the pileup of inventories has broadened to other industries with ties to housing and autos. Manufacturers have shed 95,000 workers since June, and factory output shows no sign of strengthening amid recent declines in new orders and production.
So far, though, job growth in service industries, which account for four-fifths of all payrolls in the private sector, is offsetting the weakness in the housing and goods-producing industries. Service payrolls, which increased by 172,000 in November, have posted average monthly gains of 146,000 in 2006, a tick faster than the 143,000 monthly clip in 2005. The health-care, business-services, and leisure and hospitality industries have led those gains.
THE STRENGTH OF THE JOB MARKET in 2007 will be increasingly important in the consumer outlook because households will have to depend more on income growth for their purchases in the coming year and less on gains in their wealth. Rising home prices have added handsomely to net worth in recent years, but additions to household wealth will not be as large in the coming year as they have been. Softer home prices will see to that, which also means consumers will be more dependent on financial assets for gains in wealth, which could put their sense of well-being at the mercy of stock prices.
Wealth gains have been a key reason why consumers have allowed their savings to dwindle to record lows in relation to income. Increased wealth has been a substitute for traditional savings. That trend was clearly in evidence through the third quarter of 2006, as the Federal Reserve reported a $776 billion rise in household net worth—comprising all assets minus liabilities—from the second quarter, to a record $54.1 trillion.
In the coming year households will not be able to save as much in terms of their wealth gains, and they may choose to set aside more of their income, leaving less for spending. The Fed's numbers show the waning influence of real estate wealth on the total. Housing net worth—real estate values minus home mortgages—barely rose, by $14.5 billion, in the third quarter, the smallest quarterly rise in 12 years. Housing net worth will almost certainly turn negative in coming quarters as home values fall further, but also note that real estate values have doubled in the past seven years.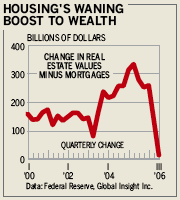 Financial assets provided almost all of the third-quarter rise in net worth, especially stock market gains. The value of corporate equities, mutual fund shares, and pension fund reserves rose by $539 billion, and an even larger increase in the fourth quarter seems likely. Through mid-December, the Dow Jones Wilshire 5000 Index was up 6.5% from the end of the third quarter, when it rose 4% from the second quarter.
By and large, consumers are in good financial shape heading into 2007, as evidenced by still-low delinquency rates for most types of loans, the subprime mortgage market being the exception. Unless job growth grinds to a dead stop, which seems unlikely, household finances should remain broadly healthy enough for consumers to keep spending at a slower but steady pace in the coming year.
By James C. Cooper
Before it's here, it's on the Bloomberg Terminal.
LEARN MORE