Inflation: Two Price Gauges That Hardly Look Tame
The Federal Reserve continues to keep a hawkish eye on inflation. While top-line readings of price indexes have shown marked slowdowns, alternative inflation gauges show prices still running at an uncomfortable pace for the central bank and that the gains remain broad-based.
After the Dec. 12 monetary policy meeting, Fed Chairman Ben S. Bernanke and his fellow policymakers stated once again that "some inflation risks remain." While the Fed expects price pressures to ease due to slower economic growth and lower energy prices, it hasn't ruled out another interest rate hike.
One reason the Fed still sounds tough is continued evidence of a broad entrenchment of price pressures, including two unofficial inflation indexes: the Dallas Fed's trimmed mean index and the Cleveland Fed's median consumer price index (CPI).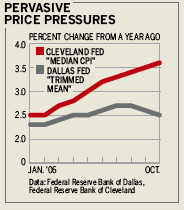 The Dallas Fed uses data from the personal consumption expenditure price index, the central bank's preferred inflation gauge. It then removes, or trims, the components with the biggest monthly ups and downs, eliminating extremes and providing a clearer underlying trend.
For October, this index showed prices for a majority of goods and services rose at an annual rate of 2% or more for a 10th consecutive month. That kept the yearly pace at 2.5%, above the Fed's comfort zone of 1% to 2%.
The Cleveland Fed's median CPI ranks the index components in ascending order. It then uses the middle category for its monthly change. This gauge shows prices in October rose 3.6% from a year ago, vs. 2.7% in the core CPI.
"The message contained in both of these alternative price measures is that the underlying trend in inflation continues to climb," wrote ABN-AMRO Bank chief U.S. economist Steven Ricchiuto in a Dec. 8 research note. So even if the economy continues to run at a slower pace, the Fed will likely see little reason to cut interest rates in the first half of 2007, as the markets now expect.
By James Mehring in New York
Before it's here, it's on the Bloomberg Terminal.
LEARN MORE