Why The Fed Will Keep Rates On Hold
A slowdown well into the new year will reduce inflation
Score one for the Federal Reserve. When Fed policymakers sit down to discuss interest rate policy on Dec. 12, they are bound to feel pleased with themselves. Their decision to stop raising rates in August is looking more and more like the right call, mainly because the Fed's economic forecast, made back in July, is playing out right on cue. That is, the economy has slowed enough for Fed officials to feel newly confident about inflation pressures abating, but not so much as to raise alarms about a recession. It's beginning to look as if no further rate moves—in either direction—will be needed for a long time.
What's new in the outlook for the economy and Fed policy is the persistence of this year's slowdown. After starting the year at a sizzling 5.6% growth rate, the economy's pace cooled to 2.6% in the second quarter and 2.2% in the third quarter. Now recent data suggest fourth-quarter growth will be no stronger, and might even be the weakest of the year. This more somber pattern seems likely to spill over into early 2007.
An emerging slower-growth trend is important for the interest rate outlook because it will allow inflation to edge down next year, something Fed officials have been hoping for. Until this year, the economy has been exceeding its so-called speed limit, the growth rate over the long run that it can sustain without generating inflation. If the economy is outgrowing its supply of workers and production facilities, then inflation pressures tend to rise.
Indeed, core inflation, which excludes energy and food, accelerated this year. Through October the Fed's preferred gauge of inflation was running at 2.4%, above the informal 2% upper limit the central bank favors, and there has been little evidence to indicate it will come down. Until now.
AN EXTENDED SLOWDOWN through the first quarter would mean the economy will have grown for four consecutive quarters at a rate below its long-run speed limit, generally agreed to be about 3%, or perhaps a shade less. In that scenario, inflation pressures tend to subside, as was the case during and after the 2001 recession. Growth at that time averaged 1.3%, and the Fed's inflation measure declined from 2.2% to 1.3%.
For 2007, don't expect a drop of that size, since the economy was much weaker then than it's likely to be in the coming quarters. Still, it appears that enough slack in the labor markets and overall production capacity is now opening up for pricing pressures to gradually abate, in accordance with the Fed's desires.
Chairman Ben S. Bernanke and other Fed officials have recently expressed new concerns that tight job markets and rising labor costs could pressure companies to hike their prices. However, given the economy's gentler pace, job markets are more likely to loosen than tighten further. In coming months, given the unemployment rate's tendency to lag behind growth in the economy, the jobless rate might even edge up a bit.
BASED ON SEVERAL DISAPPOINTING economic reports of late, economists are slashing their growth forecasts for this quarter and the next. Many fourth-quarter projections are now below 2%, with only a bit of improvement expected for the following quarter.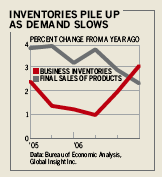 Consumer spending is holding up, but retailers are generally unimpressed by holiday buying, and November car sales dipped to a tepid annual rate of only 16 million. Business outlays for equipment have turned soft, and business spending on new construction, which had been trending up strongly, weakened in October. Falling home construction is also set to take another big bite out of overall growth.
The latest twist in the outlook, and the one most responsible for economists lowering their growth forecasts, is the buildup in business inventories. The pileup was earlier thought to be the result of over-production in the auto industry, but the problem appears broader, and the necessary adjustments are likely to run into early next year.
Stockpiles this year have grown faster than justified by the slowdown in sales, and contrary to many expectations, overall demand this quarter shows no signs of speeding up. Total sales of domestically produced items grew at an annual rate of only 2.1% in the middle two quarters of the year, down from 3.8% during the previous four quarters. Meanwhile, inventories have been building. In the third quarter, they rose by the largest amount in more than two years.
Efforts to pare those stockpiles are cutting deeply into orders and production among manufacturers, although the overall economy is not nearly as weak as the factory sector. That was clear from the November drop in the purchasing managers' index of industrial activity, which fell to 49.5%, the lowest level in 3 1/2 years. For the first time in more than five years, purchasers said their customers' inventories are "too high" for the second month in a row. At the same time, purchasers in the much larger nonmanufacturing sector reported a healthy level of activity in November.
THE CONTINUED SLOWDOWN in economic growth will ease the Fed's concerns about a potential inflation problem spurred by this year's tighter job market and faster-rising worker costs. The Labor Dept.'s latest revisions to productivity and cost data reinforce that view. They show pressure on labor costs building far less rapidly than earlier data had indicated.
The Labor Dept. revised sharply lower the growth in pay to workers in the nonfarm business sector in the second quarter. The revision implies the first quarter's blistering 13.7% annual rate of increase in compensation was a one-time event, fueled by a surge in bonuses, a pattern that may recur in 2007. Through the third quarter, pay is up 4.3% from a year ago, not 6.7% as indicated earlier. And after accounting for the 1.4% rise in productivity over the year, unit labor costs, which are crucial to pricing decisions, have grown only 2.9%, not the alarming 5.3% clip reported previously.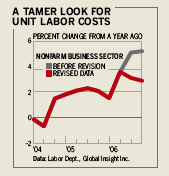 Cost pressures on pricing decisions may be even weaker than those numbers imply. The Labor Dept.'s figures show even slower growth in unit labor costs among nonfinancial corporations, data to which the Fed pays keen attention. Unit labor costs in this sector are up only 0.5% over the past year, because productivity growth has been faster than that for all nonfarm businesses. Note that prices in the nonfinancial corporate sector are up only 1.8% from a year ago. That gap between prices and unit labor costs explains why profit margins remain wide, a big contributor to this year's strong profit growth.
The strength of the economy and the resulting squeeze on the labor markets have always been the main reasons to be concerned about inflation in 2007. Now those worries are abating. An extended period of slower growth will keep the Fed on the sidelines and pave the way for continued noninflationary growth later on.
By James C. Cooper
Before it's here, it's on the Bloomberg Terminal.
LEARN MORE