Manufacturing: A Lull At The Plant? Look Closer
The latest batch of surprisingly weak factory data is leading economists to question the vigor of business investment and to trim economic growth estimates for the fourth quarter. Although manufacturers are in the middle of a slowdown, capital spending should remain a solid contributor to economic growth.
Many economists have downgraded their projections for fourth-quarter 2006 growth, reflecting, in part, recent weakness in capital- goods shipments, which fell sharply in October. November's poor reading on the purchasing managers index of industrial activity, from the Institute for Supply Management (ISM), further fueled new doubts about the quarter's strength.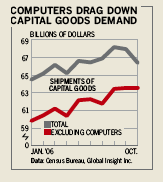 The truth of the data may be less grim. The 36.2% drop in computer shipments accounts for nearly all of the October decline in capital goods. And as of July, 2006, computer investment in the gross domestic product report is calculated primarily from the Federal Reserve's industrial production numbers because of reliability issues surrounding monthly computer shipments data, says Brent Moulton, associate director at the Bureau of Economic Analysis. The Fed says October computer output remained strong.
And the November purchasing managers' report may not mean factory output fell, as a reading below 50% is often interpreted. According to Edward E. Yardeni, chief investment strategist at Oak Associates, output doesn't start declining on a year-over-year basis until the index falls below 47%.
Weakness in manufacturing still appears to be concentrated in housing and autos. Demand for machinery, a big chunk of capital goods, is still charging ahead. A surge in spending on heavy trucks, due to an impending January change in emission regulations, should partially offset the drag in other areas, writes JPMorgan Chase (JPM ) economist Michael Feroli in a Dec. 1 research note. It all adds up to a fourth quarter that may not be as anemic as the headline numbers imply.
By James Mehring in New York
Before it's here, it's on the Bloomberg Terminal.
LEARN MORE