How Bad Will the 2007 Property Market Be?
Economists predict that next year will be tough, but some metros will hold up nicely and the future may not be as gloomy as some fear
Maya Roney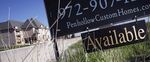 Americans are increasingly nervous about the real estate market in 2007. They have good reason to be. But the news isn't all bad: Interest rates will remain at historically low levels, homebuyers will see more opportunities, and, best of all, for those planning for the long term, 2009 could be primed for a comeback.