U.S.: Why Capital Spending Should Pick Up Again
The economy's unsung hero is slowingbut maybe not for long
Corporate America has been one of the unsung heroes of the economy's resilience this year. Even during a year of global unrest and great uncertainty over oil prices and housing, companies have continued to plow billions of dollars into new factories, offices, equipment, and software in an effort to expand operations and take advantage of growth opportunities at home and abroad. Those investments have generated more jobs and income, and they have played a big role in offsetting the drag from the housing recession.
That's why recent signs of slipping business confidence will require close attention in coming months. Over the past few months, surveys by the Business Roundtable, the Conference Board, and the National Federation of Independent Business, which represents small concerns, all indicated less confidence in the future, and all showed some scaling back of capital spending plans.
Perhaps the best gauge of business confidence is the volume of orders companies are placing for capital goods. These represent a company's financial commitment to future growth, and the latest news is not encouraging. Manufacturers saw a sharp drop in their incoming orders for capital equipment in October, and shipments declined for the second month in a row. That pattern suggests capital spending may provide less of a buffer against the housing slump than many economists had expected, especially in the fourth quarter.
THE IMPORTANT QUESTION for 2007: Is this latest round of corporate skittishness just a temporary lull or something fundamental that could further depress overall economic growth? For now, it looks as if any pullback by business will be short-lived, so long as the weakness in the economy is confined to housing construction and auto production. Those two areas tend to swing sharply over short periods, and they can weigh heavily on the industrial sector, as they are doing now.
Those two drags were clear from the latest report on third-quarter gross domestic product. The Bureau of Economic Analysis (BEA) bumped up its initial estimate of growth for the quarter, from 1.6% to 2.2%, but much of the upward revision reflected faster growth in inventories. Business inventories have grown somewhat more rapidly than many companies would prefer, and cutting those stockpiles down to size is likely to weigh on economic growth in the fourth quarter.
In particular, auto production earlier this year ran far ahead of sales, forcing the current production cutbacks by Detroit. Also, as demand for construction-related materials and products has fallen off, those producers have had to make adjustments as well.
Those realignments, however, are already well under way. Automakers have cut output sharply, and Detroit is likely to offer another yearend round of sales incentives, as it has done for the past two years. Plus, home demand continues to show signs of stabilizing. Sales of new homes dipped in October, but they had risen in both August and September, and October sales of existing homes increased. As housing demand firms up, declines in residential construction will become less of a drag.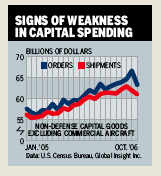 Another temporary factor may also be at work. The big 5.1% drop in October orders for capital goods, other than those for aircraft or from the military, reflected an unusually steep 10.2% decline in demand for computers and electronic products. But the speculation is that businesses may be holding off buying new hardware until Microsoft Corp.'s new Vista operating system is rolled out in late November.
The lift to economic growth from business investment in the coming year may not match the 8%-9% growth rate expected for all of 2006. But barring some new shock to business confidence, most economists still expect corporate outlays to grow next year, once again much faster than overall GDP.
THE STRONGEST REASON to remain optimistic about capital spending in the coming year is the solid set of economic fundamentals underlying it. Many of the same forces that spurred business investment this year will also be at work next year: Spending by U.S. consumers and foreigners is expected to lift demand, and production capacity should remain tight, as factory operating rates stay high and unemployment remains low. Plus, businesses are still catching up with demand after the huge cutbacks in spending on new plants and equipment following the investment bust earlier in the decade.
That point is supported by the boom in business construction. Outlays for new factories, warehouses, and other commercial space through the third quarter have soared 14.4% over the past year, the fastest yearly advance in two decades. It's a sign businesses are not just investing in new productivity-enhancing equipment. They are expanding their operations, and that new space will require more equipment and workers.
FINANCING ISN'T LIKELY to be a problem. Profits are set to keep growing, although at a slower pace than this year's high double-digit rate. The government's roundup of company earnings, released along with the updated GDP numbers, shows continued strength in profits. Because the BEA's data account for normal seasonal variation, earnings can be compared from quarter to quarter. Profits increased a solid 4.2% from the second quarter, and they were up 30.9% from a year ago, a surge mainly reflecting last year's hurricane-related weakness.
Profits typically grow more slowly as a business cycle ages: Productivity gains begin to diminish, the way they are doing now, as businesses depend on fatter payrolls to expand production. That means labor costs rise faster, as is also happening now, and profit margins tend to get squeezed. Still, earnings next year get support from a growing economy, a little more pricing power, and a weaker dollar, which will boost earnings from abroad, as they are translated back into U.S. currency.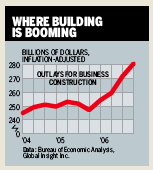 Also, even as internally generated funds slow, capital markets still offer low-cost financing opportunities, and banks are aggressively looking for new business. Up to this point, the corporate sector has tapped a gusher of cash flow nearly sufficient to cover the sector's bill for capital outlays. That's highly unusual by historical standards.
The result is that many companies have not had to add greatly to their debt in order to finance their expansion. Corporate balance sheets are very strong. The ratio of liquid assets to liabilities is exceptionally high, and their ratio of debt to net worth is unusually low. All this puts companies in an excellent position to borrow at a time when interest rates are still low and the rising trend in stock prices is a boost for equity financing.
The chief risk to the capital spending outlook is the housing recession. If the housing slump begins to spill over into other sectors, especially consumer spending, then businesses will sound a retreat. So far that's not happening, but the October falloff in capital goods orders and shipment bears watching.
By James C. Cooper
Before it's here, it's on the Bloomberg Terminal.
LEARN MORE