Employment: Harder Times For Hard Hats?
The widely predicted decline in construction employment caused by the housing slump may finally be getting under way. But the upcoming November job report, due on Dec. 8, and subsequent figures this winter may still not fully reflect the pullback. That may not occur until the spring.
In October, as the inventory of new housing remained high and housing starts plunged, construction payrolls fell by 26,000 workers. That was the biggest monthly drop since February, 2003, and it held the gain in overall hiring to just 92,000 workers, the smallest in a year.
Even with the October drop, construction payrolls are still up by 144,000 from a year ago. That's because hiring in the nonresidential sector, where activity is booming, has been brisk. Outlays in this sector are about half those in housing construction, but the nonresidential area employs more workers.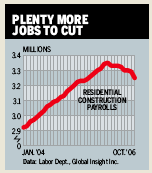 What's more, the job decline in home building so far has been small--only 93,000 since the February peak. But the lag between housing starts and completions is 6 to 12 months, according to Goldman Sachs GS chief U.S. economist Jan Hatzius. Builders didn't start scaling back starts until early this year, so the need for workers is only now diminishing.
This drop in activity comes as winter approaches, just when builders normally lay off seasonal workers. Therefore, Labor Dept. data, which are seasonally adjusted to account for the pattern in construction hiring, may not show the full impact. Concrete signs that housing's plunge has hit payrolls may not surface until next spring, when builders traditionally ramp up hiring.
If builders keep payrolls lean, then the seasonally adjusted numbers for construction payrolls could show big drops, since actual hiring would be much less than the expected seasonal pattern. Indeed, Hatzius believes residential payrolls could end up falling by 600,000 workers in the next year or two if housing activity only holds where it is now. Even if nonresidential construction remains hot, it would not be able to offset fully offset a drop of that magnitude.
By James Mehring in New York
Before it's here, it's on the Bloomberg Terminal.
LEARN MORE