A Good Time To Ask Santa For A New House
Lower home prices, which are boosting affordability, are a big reason why new-home demand is stabilizing. And it looks like prices in several markets will be heading even lower in coming months. Although construction activity is dropping sharply, a lot of new homes are still coming to market and builders' inventory levels remain uncomfortably high.
While housing starts in the three months through October have plunged 22.2% from a year ago, new-home completions are off only 0.1%. That means, despite the construction cutbacks, the rate at which new homes are up for sale hasn't fallen by much. In fact, completions were up 4.5% from a year ago in the Northeast and off just 3.9% in the West, two areas where the housing boom was the strongest and where prices are already cooling quickly.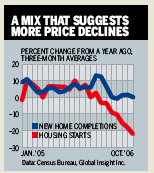 The slowdown in homebuilding traditionally follows a decline in new-home sales, but this time the lag has helped push up the homeowner vacancy rate to a record level of 2.5% in the third quarter. And the stock of completed new homes that remain unsold as of September grew by 46% from a year ago. The elevated level of both new and existing homes for sale is already pressuring builders to reduce prices. The median price of a new home in September fell by 9.7% from a year ago, the largest annual decline since 1970.
The good news for builders is that lower prices, along with a retreat in mortgage rates, is stemming the slide in new-home sales. The consensus expectation among economists is that October sales stood at an annual rate of 1.05 million, compared with 1.08 million in September. Even so, "we still probably need more adjustment on the price side before the inventory overhang is reduced sharply," says Joel L. Naroff, president of economic consulting firm Naroff Economic Advisors. Some of that adjustment, says Naroff, will not show up in government data as builders throw in perks, such as an upscale kitchen, rather than cutting the list price.
By James Mehring in New York
Before it's here, it's on the Bloomberg Terminal.
LEARN MORE