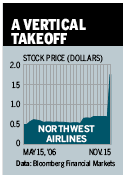 When airline stocks tumbled last summer because of soaring fuel prices and a drop in traffic after the London terrorist-plot scare, Vincent Carino, president of Brookhaven Capital Management, turned bullish on the group. He bought AMR (AMR ), parent of American Airlines, at 19, and United Airlines (UAUA ), at 23. They have since leaped to 31 and 36, respectively. Carino's new top pick is Northwest Airlines (NWACQ ), now in bankruptcy and friendless on the Street. But shares of the No. 5 carrier have spiked up--from 51 cents on July 7 to 1.75 on Nov. 15. Carino, who owns nearly 5%, and others who asked not to be named, say Northwest, with a market cap of $152 million, will probably be bought out before it emerges from Chapter 11. Some high-profile investors have been buying, Carino says, confident that private equity funds or another carrier will make a bid in three to six months. In a deal, they put Northwest's value at 5. On Nov. 15, US Airways (LCC ) made a surprise bid for Delta Air Lines (DALRQ ), also in bankruptcy, for $8 billion. "The bid bolsters our case that Northwest could also get an offer," says Carino. Northwest posted third-quarter operating profits of $272 million on sales of $3.4 billion. From its bankruptcy, filed on Sept. 14, 2005, it had charges of $1.4 billion. With traffic and fares rising and oil prices down, Carino sees a "dramatic upswing in 2007 operating profits to between $500 million and $1 billion. Northwest expects a "modest" 2006 profit, excluding bankruptcy-related expenses. Mark Streeter of J.P. Morgan Securities (JPM ) says in a report: "It's possible that private equity could play a role in the Northwest exit financing." Historically, private equity airline deals have worked best, he adds, when the target was in Chapter 11, because of increased flexibility and lower valuations on the assets. Northwest didn't returns calls asking for comment.
Note: Unless otherwise noted, neither the sources cited in Inside Wall Street nor their firms hold positions in the stocks under discussion. Similarly, they have no investment banking or other financial relationships with them.
By Gene G. Marcial
Before it's here, it's on the Bloomberg Terminal.
LEARN MORE