Exports Are Giving The Economy A Surprise Lift
They're on a tear -- helping to offset the housing recession
The three pillars of U.S. economic growth this year have been consumer spending, business outlays for new buildings and equipment, and exports. They have supported the economy strongly through $70-per-barrel oil, $3-per-gallon gasoline, interest rate hikes, and a housing recession. Each pillar was crucial, yet demand by U.S. consumers and businesses tends to get most of the attention, while foreign demand often gets pushed into the background. It shouldn't be. As globalization opens an ever-wider array of opportunities, U.S. exports are playing an essential role in powering overall output, employment, and profits.
Just look at the latest report on U.S. international trade. Most of the notice, as usual, was on the import side of the balance. The impact of cheaper oil on overall imports helped to narrow the monthly trade gap to $64.3 billion in September from $69 billion the previous month, one of the largest declines on record. Receiving less attention: Exports are on a tear this year. Overseas shipments of goods and services in September posted a solid 0.5% increase from August, and they are up 15.8% from a year ago.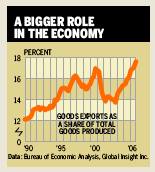 Exports of goods, which comprise 70% of foreign shipments, have been especially strong. Real exports of goods, which are adjusted for price changes, jumped 1.3% from August and have grown 15.7% from a year ago--the fastest annual growth rate in nine years. The gains have been broad, spanning product sectors and geographic regions. Shipments to European and Pacific Rim countries have accelerated sharply over the past year, and capital goods continue to lead the gains.
THE ENORMOUS THRUST EXPORTS have provided to economic growth is somewhat hidden in the gross domestic product data. That's because foreign trade's contribution to GDP is the net of exports minus imports. On balance, the widening trade deficit has subtracted from growth. But take a look at only the export side of the ledger. Shipments abroad added 0.7 percentage points to the economy's 3.2% growth rate in 2005, and the fillip has been even greater this year. In fact, so far in 2006, exports have contributed as much to GDP growth as capital spending by businesses.
In addition, note that exports are accounting for an ever-larger share of overall U.S. output. After falling during the global downturn earlier in the decade, the share of total production of goods being shipped abroad has surged to a record 17.6% as of the third quarter, up from a low of 13.7% only three years ago.
That greater share is a by-product of globalization, which is also evident in the accelerating volume of U.S. trade--exports plus imports--over the past three years. It also shows up in the increasing percentage of profits of U.S.-based corporations that is coming from their overseas operations. During the same three years, that share of corporate receipts has averaged 25.3%, up from 18.3% in 1998. Although there are no official data, it's a good bet export-related profits are making a greater contribution to the bottom line as well.
THE BENEFITS OF STRONG foreign demand are providing an especially important source of support to the economy right now as the housing downturn takes its biggest bite out of growth. U.S. manufacturing is the key beneficiary. Domestic demand for factory goods has slipped, reflecting the softness in construction supplies and the recent cutbacks in the auto industry. The weakness in both of these areas has put a drag on industrial output and jobs in recent months, but exports have helped to keep factories humming at high rates of capacity utilization.
Exports are almost certain to continue to grow strongly in the coming year, and it's easy to see why. In the very near term, for example, the index of export orders in the industrial sector compiled by the Institute for Supply Management posted a big rise in October to its highest level since January.
Further ahead, and more fundamentally, favorable economic and financial forces are in place to keep economies overseas growing strongly in the coming year. Although interest rates outside the U.S. continue to rise, most notably in the euro zone, global financial conditions remain relatively easy and support growth. In both the euro zone and Japan, for example, the central banks' inflation-adjusted policy rates remain well below those in America. Also, the narrow difference between yields on government and corporate bonds indicates that global credit markets see little risk in lending, suggesting a climate that will accommodate borrowing.
WHAT'S DIFFERENT ABOUT GROWTH outside the U.S. now, compared with past business cycles, is that it is being driven more by homegrown demand and less by exports, especially to America. That independence will give foreign growth more staying power as the U.S. economy slows. Earlier upswings overseas, such as Germany's and Japan's in the late '90s, were cut short precisely because export growth slowed and those countries lacked solid domestic demand to fall back on.
This time, although third-quarter growth in the euro zone slowed to a 2.1% annual rate after averaging a strong 3.5% clip in the first half, both Europe and Japan still boast solid corporate sectors, improving labor markets, and healthy financial markets. Much the same is true across the Pacific Rim. As a result, U.S. exports to Europe in the third quarter are up 20.7% over the past year, the fastest annual growth rate in more than a decade. The increase to all Pacific Rim countries has nearly doubled, to 15.2% from 8.7% last year. Those two regions account for about half of all U.S. exports, and other areas show strong growth as well.
In addition, energy-importing economies worldwide will benefit from the dip in oil prices in ways that will do even more to bolster demand at home. Cheaper energy will lower production costs, helping to shore up profits. It will lift the confidence of businesses and consumers and cut overall inflation, boosting the purchasing power of consumers' incomes.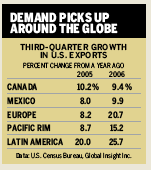 The other reason to expect further gains in U.S. exports is the dollar's decline. Its dip seems likely to continue given the still-yawning American trade deficit and the narrowing spread between U.S. and foreign short-term interest rates. That tighter spread tends to decrease the attractiveness of dollar-based securities as investments.
From its peak in early 2002 through October, the real trade-weighted dollar has dropped 14.3%, and it fell further against most currencies in November. In particular, the greenback has grudgingly but steadily made competitive gains against the Chinese yuan as China continues its baby steps toward greater currency flexibility.
Clearly, globalization creates both challenges and opportunities. The emergence of greater U.S. competitiveness in a growing world economy is one opportunity that many American exporters are taking advantage of. And the timing is especially favorable--when the economy can use the extra support.
By James C. Cooper
Before it's here, it's on the Bloomberg Terminal.
LEARN MORE