PetroChina Is Energy's 800-Pound Panda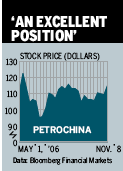 With China the world's second-largest user of energy, some Street pros are putting their money on PetroChina (PTR ), China's top oil and gas producer, as a play on what they see as a long-term bull market on energy. With China and India growing so fast, global demand for energy can only surge, and PetroChina is sure to be the top beneficiary, with its dominance in all aspects of Chinese energy, says Frank Holmes, CEO of U.S. Global Investors (GROW ), which owns shares. PetroChina, which trades on the Big Board, is 88% owned by China National Petroleum, China's No. 1 energy organization. Holmes says the stock remains cheap. And he also likes PetroChina's 4.5% dividend yield. Morningstar, in a report, says that, with China's protective rule, the downside for PetroChina is limited: It won't suffer if oil prices fall. China's huge gas reserves and extensive pipeline, it adds, put PetroChina in "an excellent position to benefit from China's plans to expand the use of natural gas as a fuel for power plants." S&P says it remains positive on PetroChina given China's "robust demand for oil" and PetroChina's improving refining margins and continued acquisitions. S&P's target for the stock, now at 114.54, is 128 in a year.
Note: Unless otherwise noted, neither the sources cited in Inside Wall Street nor their firms hold positions in the stocks under discussion. Similarly, they have no investment banking or other financial relationships with them.
By Gene G. Marcial
Before it's here, it's on the Bloomberg Terminal.
LEARN MORE