Manufacturing: What's Piled Up Must Come Down
The U.S. economic slowdown has left manufacturers with stockpiles of unwanted inventory. These excesses mean the current stretch of tepid industrial activity will run a bit longer. But prospects for the new year look much better.
Partly reflecting a steep 3.5% drop in September factory shipments, September inventories are up 7.5% from the previous year, the fastest annual advance since April, 2005. The ratio of inventories to shipments, which measures how long it would take to sell off stockpiles at current sales rates, jumped to a three-year high of 1.22 months. As companies work through that backup, factory output and payrolls will remain depressed.
The sharp drop in housing activity and languishing sales among U.S. auto producers are at the heart of the weakness. With homebuilders scaling back, construction machinery shipments plunged in September, while inventories jumped. Auto inventory growth accelerated in September, reaching a yearly pace of 11.3%, according to the Bureau of Economic Analysis.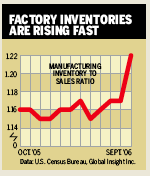 Inventory is also building up in areas including metals and computer equipment. This is probably why the Institute for Supply Management's October factory activity index showed 19% of respondents--the largest share in over five years--believed customer inventory levels are "too high."
If businesses cut back investment spending on a larger scale, or if the housing market drags down consumers, manufacturers would face a rocky road. But consumer spending remains strong heading into the fourth quarter, and the third-quarter industry survey by the National Association for Business Economics showed a rebound in capital-spending plans for next year. Those results are backed up by the solid September increases in new and unfilled orders for capital equipment.
In the coming months, the mix of strong demand and production cuts should eliminate excesses and clear the way for a reacceleration in output growth early next year.
By James Mehring in New York
Before it's here, it's on the Bloomberg Terminal.
LEARN MORE