U.S.: Housing's Tailspin Isn't Pulling Down Consumers
Their buying power and spending are accelerating this quarter
Economic forecasters all face the same problem: They try to tell us where we're going based on data that tell us where we've been. Such is the case with the report showing third-quarter economic growth at a puny 1.6% annual rate. So is the economy's poorest quarterly performance in three and a half years a harbinger of weakness to come or a relic of the past few months?
Where economists stand on that issue--and they are deeply divided--depends almost exclusively on how they see the role of the housing slump. The pessimists look at the Oct. 27 report on real gross domestic product and note that housing construction alone subtracted 1.1 percentage points from overall growth, housing's biggest drag in 25 years. Aha, they say, the hit from housing is intensifying and will only get worse.
None of this sways the optimists. They look at other sectors, especially consumer spending, business outlays for new equipment and buildings, and exports. They note that all three of these demand categories grew faster in the third quarter than in the second. In particular, they point to household spending, which finished the quarter on a strong note. All this suggests increased momentum heading into the final quarter, despite the likelihood of another sizable hit from housing.
Who's right? So far, after nearly a year of nothing but bad news from housing, the optimists still make the stronger case. The pessimists have yet to show evidence that the weakness in housing is spreading to other sectors of the economy, particularly consumer spending. Judging by the latest data, consumers seem oblivious to plunging housing starts, the drop in home demand, and softer home prices. In fact, consumer spending appears to be accelerating this quarter, not slowing down.
HOUSEHOLD PURCHASING POWER is clearly gaining speed, thanks to moderate job growth, faster gains in hourly pay, and a much smaller bite from energy costs. In September real--or inflation-adjusted--aftertax income jumped 0.8% from August. Excluding data distortions caused by Hurricane Katrina in 2005 and the big Microsoft Corp. dividend payout in 2004, it was the largest monthly increase in more than three years. So far this year, real after­tax income has risen at a 3.3% annual rate, enough to support the solid 3.5% advance seen in real consumer spending.
Even more spending power is on the way. In the current quarter the 27% drop in gasoline prices since early August means overall inflation will rise little, if at all, for the quarter. So on the whole, every dollar earned by consumers can go to purchasing goods and services, with almost none going to higher prices.
For example, households shelled out 5.6% more dollars on items in the third quarter than in the second, measured at an annual rate. But prices rose at a 2.5% rate, leaving the real gain at 3.1%. It is this real gain that contributes to growth in real GDP. If consumers were to lift their spending by the same dollar amount this quarter as they did last quarter, and prices were to stay steady, then real outlays would increase by 5.6%. That's not a forecast, but the example illustrates the possibility of a very strong contribution to overall economic growth this quarter from consumer spending.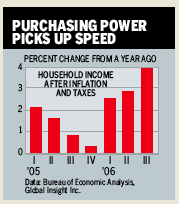 How all this is affecting the mood of households in October depends on which survey you follow. The Conference Board's index of consumer confidence dipped last month, as consumers retained some concern about the job market. The index stood at 105.4, close to the average for all of 2006. The University of Michigan index of consumer sentiment for October jumped to the highest level since July, 2005. However, the most important gauge of how consumers feel is how much they are spending, and that measure looks just fine.
THE FORTUNATE TIMING of the drop in pump prices and the stock market rally has helped to mitigate the secondary impact on consumer spending from weaker housing activity and home prices. One fear has been a sharp cutback in outlays for home-related goods, but there is still no sign of that. Real consumer spending on furniture and household equipment this year has grown at an annual rate of 10.8% through the third quarter, little changed from the 11% pace during all of 2005.
Even more important, signs continue to point to a moderation in the housing downturn itself. Sales of new homes rose for the second month in a row in September, and the ratio of inventories to sales also declined for the second consecutive month. Plus, 30-year fixed mortgage rates have dropped from 6.86% in mid-June to 6.24% at the end of October, and applications to buy homes have stabilized. Lower mortgage rates, the rising purchasing power of incomes, and softer home prices are combining to lift affordability and put a floor under demand.
THE OTHER BIG CONCERN is the fallout on spending from softer home prices, which some fear will erode household finances. However, the 8% surge in stock prices since the end of July has more than offset any loss in household net worth due to weaker home prices. Last quarter's gain in the broad Wilshire 5000 stock index suggests that household balance sheets scored a big advance in financial assets on the order of $800 billion.
There is also a basic question of just how much home prices are weakening. The popular median measures for existing and new homes show September price declines of 2.2% and a huge 9.7%, respectively, from a year ago. However, both of these gauges can be influenced by shifts in the composition of homes being sold. For example, if fewer high-priced homes are sold relative to lower-priced ones, the median price will decline, even if prices of all the homes in the sample are unchanged. Given the growing gridlock between buyers and sellers of high-end homes, that factor may be at work now. Just the opposite may have occurred in 2004, when booming sales of million-dollar homes caused the median price to soar.
Two quarterly price indexes--one for existing homes compiled by the Office of Federal Housing Enterprise Oversight (OFHEO) and one for new homes put together by the U.S. Census Bureau--attempt to adjust for some of these problems. They show prices decelerating, but not nearly as rapidly as the median measures.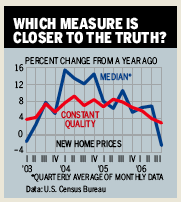 The price index from Census, which covers new homes, attempts to adjust for the very flaw that may have caused the sharp September drop. The gauge is a constant-quality index that accounts for things like square footage and the number of bedrooms and baths. This measure was up 2.9% from a year ago, not down as the quarterly average of the median data show.
The OFHEO index, which standardizes existing-home prices by looking at a fixed group of houses over time, was up 10.1% in the second quarter vs. a year ago. That rate is sure to drop in the third quarter, when the data are reported on Dec. 1, but the pace should stay positive.
One thing is for certain: Soft home prices and declin­ing construction activity will continue to hold back the economy in the months ahead. But the data still show plenty of other forces helping to push it forward.
By James C. Cooper
Before it's here, it's on the Bloomberg Terminal.
LEARN MORE