Lumera Lights Up—And Streaks Ahead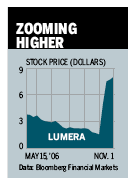 One of the biggest winners on the NASDAQ in October was an obscure outfit called Lumera (LMRA ). It rocketed from 1.58 on Friday, Oct. 13, to 5 on Monday, Oct. 16. By Oct. 24, it had jumped to 7.56. It has since gone up to 8.08. Part of the lightning rise was due to short-covering. The big crowd that had shorted it didn't expect such a blitzkrieg in just days. Is Lumera a mere flash in the pan? Don't count it out, "as it is certainly a stock to watch," says Bernie Schaeffer, CEO of Schaeffer's Investment Research. Lumera started to move after the electronics specialist said it completed successful testing of its "millimeter wave wireless bridge" that allows the transmission of "vast amounts of data via a variety of high-speed telecommunications networks." Lumera CEO Thomas Mino says it's an entirely new concept based on photonic technology: "Our vision is to make communications delivery faster than ever." With such a system, people will have access to video, data, and voice "at speeds and prices once unimaginable." The new system, says Mino, could download the data-equivalent of six DVDs in one minute. Lumera has also produced a "Proteomic Processor" biosensor that Harvard Medical School will use "to develop chemistry for drug discovery," says Mino. Short-covering, says Schaeffer, could fuel more rallies in the stock.
Note: Unless otherwise noted, neither the sources cited in Inside Wall Street nor their firms hold positions in the stocks under discussion. Similarly, they have no investment banking or other financial relationships with them.
By Gene G. Marcial
Before it's here, it's on the Bloomberg Terminal.
LEARN MORE