Business Construction: Strong Medicine For Weak Housing
The recent slowdown in economic growth hasn't put a dent in business construction. Demand for office and factory space continues to outstrip supply. As that demand is met, nonresidential building will keep offsetting much of housing's decline.
Nonresidential construction is expected to show another solid increase in September. Lehman Brothers (LEH ) economist Michelle Meyer expects a monthly gain of 0.5%. That would keep the yearly pace of growth around 20% for a fourth straight month.
The strong growth is partly a response to a decline in available space. In the third quarter, the net amount of occupied space rose more than 20 million square feet, while just 7.3 million square feet was completed, according to CB Richard Ellis (CBG ), a commercial real estate services company. The vacancy rate fell to 13.7% in the third quarter, from 14.2% in the prior period, and rents ticked higher, indicating some degree of pricing power.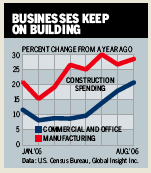 The story is similar in the industrial sector. The vacancy rate for industrial space was 7.9%, the lowest since 2001. Factory output continues to outpace capacity growth, even as production has slowed recently. In September, production grew 6.3% from a year ago, while output capacity expanded by 2.7%.
Distribution centers and ports are where demand for more facilities is especially strong, according to Ward Caswell, director of research at CB Richard Ellis. The rise in both imports and exports is raising demand in this industrial building category.
Nonresidential construction gains have offset a large part of the plunge in residential activity, even though the commercial sector is a little more than half the size of the housing market, in dollars. This year, residential outlays have fallen $48 billion, compared with a $37 billion jump in the nonresidential area. The trend should persist. Data show the housing slump may be close to hitting bottom, and its impact on consumers still appears minimal, which is likely to keep businesses in an expansion mode.
By James Mehring in New York
Before it's here, it's on the Bloomberg Terminal.
LEARN MORE