Sugar High Birthday Cake Recipe
Lauren Young

One piece of vanilla layer cake with double fudge frosting soaked in two teaspoons of Tylenol with Codeine and topped with M&Ms
Birthday candles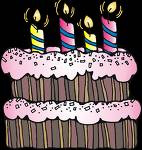 That's what we served Tuesday when we got home from the hospital to celebrate my son Leo's second birthday as well his final surgery. It was Halloween—and he dressed up as a patient. For those who haven't followed our medical odyssey, Leo has had seven surgeries in the past two years to remove a giant mole on his back.
Tuesday's surgery was a lot longer and more complicated than the doctor expected. The surgeon also thought Leo might be experiencing some significant blood loss post-op. But the folks in white coats ran some tests, and Leo's red blood cell levels jumped quickly, so we went home, just a few hours before trick or treating. (I've been joking all week that the kid was born a werewolf two years ago, and he transformed into a vampire.) Leo slept for six hours straight while the kids on our block ran amuck fueled by their own Halloween sugar high.
It's hard to believe that my family made it through the proverbial tunnel. The sun is shining now. I think it will take a few weeks to process our new reality. Life will no longer be framed by weekly doctor's appointments, insurance claims, countless trips to medical supply stores or pharmacies.
We have many people to thank, but special shout outs go to "The Wiggles" and Noggin, who kept our ailing patient entertained for hours (Leo's surgeon can sing "Fruit Salad, Yummy, Yummy"); Sam the pharmacist at Wyckoff Corner Pharmacy; Tylenol Meltaways; Nevus Outreach; Jivamukti West and Area Yoga; as well as our family, friends, and colleagues at BusinessWeek and Brown, Raysman.
I'd also like to acknowledge the power of chocolate. From M&Ms to MarieBelle, I don't think I could have made it through without my daily fix.

Before it's here, it's on the Bloomberg Terminal.
LEARN MORE