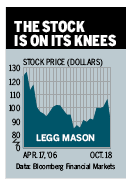 When Legg Mason (LM ), the sixth-largest U.S. asset manager, plunged from 105 to 87 a share on Oct. 11, Steven Rogé of Rogé Partners Fund (ROGEX ) couldn't believe his luck. He had been waiting to buy. Legg Mason's disclosure that third-quarter earnings missed estimates gave Rogé his chance. It's still at 87.35. The firm's shift to lower-fee fixed-income assets and an unexpected $12 million distribution expense cut into profits. Most analysts downgraded the stock, but Rogé was unfazed: Despite Legg Mason's 10-year record of 23% annualized profit growth, he notes, its stock sells at a discount to peers, with a market cap of only $11.7 billion. Such firms are typically valued at 2% of assets under management, he says. In Legg Mason's case, 2% of $890 billion would be $18 billion. Thus, the stock is a "wise buy," he argues. In late 2005, Legg swapped its brokerage and capital markets business for Citigroup's (C ) $400 million asset-management unit, doubling its holdings. The integration of Citi properties is creating disruptions, but the makeover will add to earnings and increase Legg's scale and breadth, says Roger Smith of investment manager Fox-Pitt Kelton, who rates the stock "outperform." Rogé figures Legg Mason will earn $6 a share for the year ending Mar. 31 vs. analysts' consensus estimate of just $4.86 and fiscal 2006's $4.05. Rogé's 12-to-18-month stock price target: 120.
Note: Unless otherwise noted, neither the sources cited in Inside Wall Street nor their firms hold positions in the stocks under discussion. Similarly, they have no investment banking or other financial relationships with them.
By Gene G. Marcial
Before it's here, it's on the Bloomberg Terminal.
LEARN MORE