U.S.: The Job Reports Aren't Doing Their Job
Why the Labor Dept.'s payroll numbers are confusing the markets
The first Friday of every month is the day Wall Streeters know to batten down the hatches. That's usually when the Labor Dept.'s employment report hits the newswires. The latest storm came when September's data, released on Oct. 6, sent the bond market reeling. The problem is, it's getting increasingly difficult to know what this crucial compilation of research is actually saying about the health of labor markets and the economy from month to month.
For example, the report's headline measure, payroll jobs, rose a surprisingly scant 51,000 from August, the weakest showing since Hurricane Katrina. You'd think that would have sparked a big bond-market rally on expectations the Federal Reserve would be cutting interest rates. However, the Labor Dept.'s other measure of jobs, contained in the same report and taken from a survey of households, showed a solid gain of 271,000, and unemployment fell to a five-year low of 4.6%.
Adding to the confusion, Labor revised the August payroll gain up by an unusually large 60,000 workers, changing what had been a modest 128,000 increase into a strong 188,000 advance. It also made a more striking revision: In the 12 months through March, it said, about 800,000 more payroll jobs had been created than first reported. So what should we believe? Did the report indicate strength or weakness?
Although on balance the numbers imply the economy slowed some in recent months, the data argue that the labor markets are a lot stronger than the paltry rise in September payrolls suggests. That means the bond market's knee-jerk sell-off, which pushed long-term rates up sharply, was the right reaction. As long as the job market is solid, consumer spending will remain well-supported, and the threat of a housing-led economic downturn is much less worrisome. For the markets, contrary to recent expectations, the jobs data mean the Fed is unlikely to start cutting rates any time soon.
THE PROBLEM WITH THE JOB DATA right now is the waning credibility of the Labor Dept.'s initial reading of payroll numbers, which it derives from a survey of businesses. That's because the agency's revisions are often quite large. Consider the pattern this year: The originally reported numbers showed sizable monthly payroll gains of 196,000, on average, from January to April, which then slowed sharply to just 109,000 on average from May to August. But the revised readings showed a more modest easing, from 160,000 per month to 136,000. Amid concern this year about just how much the economy is cooling, recent initial employment reports appear to have exaggerated the slowdown.
Economists have long considered payroll numbers the preferred measure of job growth compared with data from the household survey. However, veteran Wall Street economist Edward E. Yardeni, now at Oak Associates Ltd. in Akron, Ohio, wonders why the markets still pay so much attention to the first-reported payroll data, and called them "useless" in a recent client briefing.
MAYBE THAT'S A BIT STRONG, but Yardeni does make an interesting point in light of the Labor Dept.'s annual benchmark revision, which was also reported on Oct. 6. Each year Labor goes back to more detailed state employment records and corrects its estimates, using March as its benchmark month. This year its preliminary results show the level of payrolls in March, 2006, was actually 810,000 jobs higher than the figure now on the books. If that stands, it would be an exceptionally large revision by historical standards. There will be further refinements before the final estimate, which will be incorporated with full monthly revisions into the January, 2007, job report.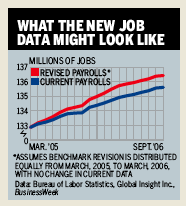 The result of this restatement is far from trivial. The new benchmark says payrolls have grown 2.8 million from March, 2005, to March, 2006, not 2 million. That means job growth has averaged 68,000 per month more than current data show, which means 237,000 more jobs per month, not 169,000. The bottom line: The job market has been stronger than anyone thought, and it continues to offer solid support to the economy.
The payroll revisions clear up other inconsistencies in recent data clouding the view of current economic trends. For one, they suggest that the strong employment gains evident in the Labor Dept.'s survey of households over the past year (an average gain of 201,000 jobs per month) is the more accurate reading of the labor market's health, not the payroll survey's finding of an average rise of just 148,000. After the new benchmark is incorporated, these two surveys will be telling similar stories, at least through March. From March to March, the household survey shows job growth at 2.2%, and with the revisions, the payroll jobs figure rises to a parallel 2.1%, instead of only 1.5% before.
EVEN MORE IMPORTANT, the most recent payroll surveys, for April through September, may still be understating actual job growth. For one thing, job gains in the household survey since March continue to run ahead of the payroll data. For another, a keenly watched private-sector measure, compiled jointly by Automatic Data Processing, a large private-sector processer of payroll data, and economic consultant Macroeconomic Advisers, is also outpacing the government's figures. ADP builds its numbers from employment records in an effort to foreshadow the government's payroll figures.
The Labor Dept.'s revisions give new credibility to ADP's monthly tracking. ADP showed faster growth in payrolls from March to March than the Labor Dept. did originally, and from April to September, it shows payroll gains currently averaging 159,000 per month, much higher than Labor's 118,000.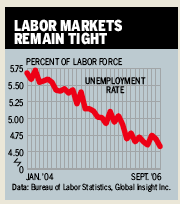 The government's revised data also validate this year's robust growth in labor income and tax receipts. Through August, wage and salary income is up 7.7% from a year ago, far greater than inflation, and the Treasury Dept. says personal tax revenues for the fiscal year 2006 ended in September were up 12.6%. This is all consistent with continued resilience in consumer spending despite record gasoline prices this summer. In the coming months, as the drop in pump prices dampens overall inflation, the full impact of strong income gains will be apparent in spending.
More payroll jobs explain why the labor markets remain tight, as seen in September's low unemployment rate. The changing composition of the workforce, which has resulted in slower labor force growth, is also keeping job markets tight. Several years ago, payroll gains of about 150,000 per month were required to hold the jobless rate steady. Now economists put that number at 130,000 or lower, meaning this year's employment growth, while slower than in 2005, is still fast enough to keep the jobless rate down and to keep upward pressure on hourly pay.
The key conclusion: Economic growth, while a bit slower, is much more durable than recent payroll data suggest. If you are worried the economy is heading for a serious slump anytime soon, think again.
By James C. Cooper
Before it's here, it's on the Bloomberg Terminal.
LEARN MORE