Saving At The Pump, Buying At The Mall
Falling gasoline prices are freeing up more cash for consumers to buy other goods and services. Early evidence has already emerged in some September figures, but the biggest impact is still to come. What's more, heading into the winter, heating bills should be smaller than last year's.
During September, retail gasoline prices averaged $2.54 per gallon. That was down not only from August but also from September, 2005, when the average was $2.91. Based on this year's lower price and a small uptick in demand for gas, consumers shelled out about $3.7 billion less for gasoline this September vs. the same month a year ago, according to Wachovia Corp. (WB ) economists Gina Martin and Jason Schenker. With chain-store sales coming in above expectations, it appears consumers used that money to shop.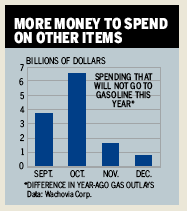 Buyers should find themselves with even more cash to spend in October as gas prices continue to fall. Schenker expects the price per gallon will drop to $2.10 in November and hover there heading into 2007.
As the benefit from cheaper pump prices fades, consumers should get a boost from another lower-priced fuel. Schenker expects natural gas prices will average about $7.75 per million Btu during the fourth quarter, a 40% drop from $12.83 in the same period in 2005. According to the Energy Information Administration's October forecast, households using natural gas for heating should pay an average of $119 less this winter, although those using heating oil are expected to pay more. The biggest drop in heating bills will likely come in December.
That extra discretionary income should be spent largely on nondurable goods and services. Retailers selling big-ticket items, such as appliances and vehicles, are less likely to see a boost since the sharp slowdown in housing prices and higher interest rates play a bigger role when it comes to those spending decisions. Even so, cheaper energy could wind up being a nice gift for retailers heading into the holiday season.
By James Mehring in New York
Before it's here, it's on the Bloomberg Terminal.
LEARN MORE