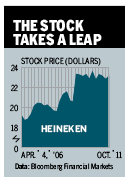 Dutch brewer Heineken (HINKY ) (HINKY), the world's fourth-largest, is a global top brand. But its Big Board-traded American depositary receipts are only now catching on with large investors. For one thing, the beermaker had three years of sluggish growth. But Heineken posted solid results in the first half of 2006. Its ADRs sprang from 16 in January to 24 in the summer and to 23 now. Charles Norton of Vice Fund (VICEX ), concentrated in alcohol, tobacco, and gambling stocks, says earnings for the second half and next year look good. So he thinks the ADRs will keep climbing. The Vice Fund in the three years ended Sept. 30 posted annual gains of 18.9%, vs. 12.3% for the Standard & Poor's 500-stock index. Many analysts are still "neutral" because of Heineken's rush upward. But Norton points to severe cost cutting, the introduction of Heineken Premium Light in the U.S., and expansion in Russia, where it has acquired nine breweries in two years. Now No. 3 in Russia, Heineken aims to boost its market share in five years from 14% to 20%. In the U.S., where it has just a 3.5% share, Heineken is betting big on a Premium Light version. The company has a deal with No. 1 Anheuser-Busch (BUD ) to brew and sell Budweiser in Russia. Heineken already makes Bud for Anheuser in Italy and has teamed up with Mexico's Femsa (FMX ) to sell its Mexican beer in the U.S. Heineken is also making inroads in China and India. Nick Bevan of Deutsche Bank Securities (DB ) rates Heineken a "buy" and expects earnings of $2.47 a share in 2006 and $2.79 in 2007 vs. 2005's $1.01.
Note: Unless otherwise noted, neither the sources cited in Inside Wall Street nor their firms hold positions in the stocks under discussion. Similarly, they have no investment banking or other financial relationships with them.
Before it's here, it's on the Bloomberg Terminal.
LEARN MORE