Stock Investors Seem To Hold The Winning Hand
Data suggest a soft landing, not the recession the bond bulls fear
O.K., investors, place your bets. Will it be stocks or bonds? Maybe both? During the past three months, both stock and bond prices have staged powerful rallies from their June lows. Through Oct. 4, the Standard & Poor's 500-stock index has soared more than 9%, and since bond yields move in the opposite direction of prices, the yield on the benchmark 10-year Treasury note has dropped from 5.24% to 4.55%.
These twin rallies have been fueled by one overriding factor: investors' belief that slower growth and cooler inflation will allow the Federal Reserve at least to hold rates steady in coming months or even to begin cutting them next year. The futures markets give high chances of three quarter-point cuts in the next year and a half.
But this is where the agreement between stock and bond investors ends. After all, if the economy is weak enough to provoke the Fed into slashing rates, then it may also be too weak to generate the profit growth that would justify the recent runup in stock prices. Bond players appear to be embracing the risk that the housing slump could turn into a broader downturn, while stock investors are optimistic that the economy will keep growing at a moderate not-too-hot, not-too-cold pace.
Stock and bond investors can't both be right. Bottom line: The economy's performance in the next few quarters will decide who wins and who loses.
BASED ON A CLOSE LOOK at recent economic data and some key underlying trends, stock investors seem likely to rake in the most chips in the coming year. That's because the odds still favor a soft landing for the economy as growth slows, not the hard crash that many bond bulls appear to be betting on.
The latest numbers on consumer spending, capital goods orders, business construction, and industrial activity continue to show the economy outside of housing is holding up well. The runup in stock prices, including a record close for the Dow Jones industrial average on Oct. 3, and the drop in long-term interest rates, which has translated fully into lower mortgage rates and cheaper corporate borrowing, will add support.
Also, while the housing slump is far from over, several indicators show the necessary adjustments are well advanced. In August sales of existing single-family homes stabilized, and pending home sales actually rose, as did purchases of newly built homes. Sharply lower mortgage rates and home prices are helping affordability, and the plunge in housing starts means builders have already taken a big step toward cutting bloated inventories.
The positive effects of the sharp drop in energy prices have yet to show up in reports on consumer prices, household spending, or factory production. That will be a key factor bolstering fourth-quarter growth. Higher energy costs dampened business and consumer confidence earlier this year, but consumer sentiment began to rebound in September. Future measures of business optimism undoubtedly will show the same pattern.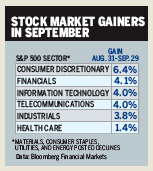 Unlike in the bond market, stock investors aren't buying the notion that the housing slump will drag down consumer spending. During September the "consumer discretionary" category of the S&P 500, comprising department stores and other retail concerns, posted a 6.4% advance, the strongest of any major sector.
Indeed the growth rate of consumer spending appears to be accelerating. After advancing at an annual rate of 2.6% in the second quarter, real consumer outlays through August suggest a third-quarter pace of about 3%. The added buying power from falling gas prices could result in an even faster growth rate in the fourth quarter.
THE OUTLOOK FOR CAPITAL SPENDING is also strong, partly because the corporate sector is in pristine financial condition. Second-quarter profits and cash flow were at record levels, and profit margins of nonfinancial companies still were above the peak levels hit in the late 1990s. In the first half of the year, the corporate sector had enough internally generated funds to pay for all of its capital expenditures. At the same time, companies were buying back stock at a blistering annual rate of about $550 billion, more than double the pace two years before.
Recent reports show businesses are also devoting plenty of cash toward expansion. Through August, orders for capital goods outside of commercial aircraft are growing faster in the third quarter than they did in the second. Unfilled orders are also growing rapidly, indicating demand is running well ahead of production.
Plus, while residential construction is wilting, new business structures are sprouting fast. In August private-sector spending on residential housing fell 1.5% from July, but outlays for business projects jumped 3.4%, with especially large increases in manufacturing and commercial buildings. So far this year, residential spending is down $49 billion, but nonresidential outlays, up $37 billion, have offset much of those losses.
REPORTS OF WEAKNESS in the third quarter that have generated fears of a broad economic slump stem from three main sources: the housing downturn, the lagging effects of the summer surge in oil prices, and cutbacks by automakers. The dip in industrial activity reflects all three. Some sectors, especially autos, are trimming inventories, but those output adjustments will be neither broad nor long-lasting.
For example, the September purchasing managers index -- a composite of orders, production, employment, delivery speeds, and inventories in the industrial sector -- declined, but the largest drops were in inventories and jobs. Output rose, albeit more slowly than in August, and orders continued to increase at the August rate. As long as consumer and business demand keeps growing solidly, the industrial sector will fare better in coming months.
The growth debate between stock and bond investors highlights another key issue in the two markets: the near-term direction of inflation. Given the drop in energy prices, overall inflation is sure to decline substantially. But stock investors appear to recognize lower energy prices as a plus for both inflation and economic growth, while many bond bulls seem to be ignoring cheaper oil's growth benefits.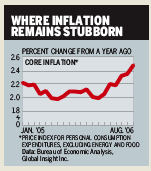 The plunge in bond yields implies bond investors think a weak economy will also bring down core inflation, which excludes energy and food. However, despite slower growth in the second and third quarters, core inflation continues to accelerate. In August the Fed's preferred price gauge sped up to a 2.5% rate from the past year, the highest reading in 11 years. If core inflation stays stubborn, the Fed might wait patiently for it to ease but won't be willing to cut rates the way bond investors now anticipate.
In 2007 the combined performance of stocks and bonds in your portfolio will depend more than usual on how the economy shapes up. Of course, the best investors aren't always the best economic forecasters, but for next year the choices are clear: A weak economy favors bonds. Continued moderate growth will help stocks.
By James C. Cooper
Before it's here, it's on the Bloomberg Terminal.
LEARN MORE