More Scrutiny For High-Risk Mortgages
The housing market may have received another blow. New guidance put out by U.S. bank regulators warned lenders to keep up their due diligence when issuing exotic mortgages. The impact could be fewer mortgages and less demand for homes.
Five agencies, including the Federal Reserve and the Federal Deposit Insurance Corp., issued guidelines on Sept. 29, effective immediately, on how banks should handle nontraditional mortgages. These comprise loans that have low introductory interest rates or offer initial interest-only payments. Another nontraditional category is adjustable-rate mortgages with payment options.
The move by regulators was caused in part by recent trends in exotic mortgage lending, including more option ARM borrowers opting for an initial minimum payment that may not cover interest costs. As a result, the agencies are requiring that banks thoroughly assess a borrower's capability to pay off a loan especially after the introductory period of lower payments ends.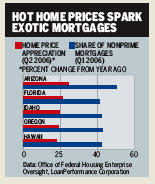 The guidelines could exacerbate the slowdown in the housing market. "A meaningful number of people who could borrow on very loose terms won't be able to do so in the coming months," says Andy Laperriere, managing director at International Strategy & Investment, an investment advisory company. During the first half of 2006 approximately 30% of all mortgages originated were nontraditional, according to the newsletter Inside Mortgage Finance.
What's more, the hottest housing markets are likely to feel the biggest impact. In states where prices have surged in recent years, a greater share of home buyers has opted for nontraditional mortgages. High prices and rising interest rates have made homes less affordable, leaving these mortgages as the only option for some borrowers.
A decline in the number of potential home buyers will add downward pressure on home prices, says Laperriere. While the guidelines are intended to protect lenders and consumers, the timing is inauspicious for a housing market already in the throes of a downturn.
By James Mehring in New York
Before it's here, it's on the Bloomberg Terminal.
LEARN MORE