U.S.: Consumers Aren't Sweating The Housing Slump Yet
They're coping, thanks to solid household finances and cheaper energy
The debate over the direction of the economy and Federal Reserve policy in the coming year boils down to one basic question: Will the housing slump drag down consumer spending and the economy? As you ponder your position on that issue, keep in mind that throughout this nearly five-year expansion, one bet has been consistently bad: the one against American consumers.
For their part, a few big-time bond market folks think a housing-led decline will reduce the economic growth rate to a paltry 1%-2% range in the second half and the Fed soon will cut interest rates. Energized recently by some weak economic reports on housing and the industrial sector, several key players have been buying bonds like mad, pushing yields down to six-month lows.
Analysts on the other side of the argument believe the supports under the consumer sector are strong enough to withstand the burdens that weaker home buying, construction activity, and home prices will place on household spending. If consumers hold up, then so will capital spending by businesses, and the strong global economy will continue to fuel U.S. exports.
So who's right? Will the bond mavens cash in big, or will resilient consumers buoy the economy and force the bond investors to dump those giant positions?
FOR NOW, CONSUMERS still have the winning hand. Although job gains have slowed, labor markets remain tight, and they are generating income at a rapid clip. Personal income in the third quarter is on track to grow about 7.5% from the previous year, a good deal faster than inflation. Also, consumer finances remain in good shape, with further additions to household net worth in the second quarter. Mortgage delinquency rates at banks, while up slightly from the year before, remain low, as do late payments for consumer loans and retail credit cards.
In addition, as gasoline and heating oil prices plummet, consumers are getting an enormous purchasing power windfall that is already boosting confidence, and it will lift spending in coming months. Finally, bond players themselves are helping to stabilize the housing market, as mortgage rates have followed long-term rates down. Since June 23, 30-year fixed rates are down from 6.86% to 6.18%. In August sales of existing single-family homes stopped declining, and purchases of new homes actually rose.
The recent signs of weakness in the economy are showing up in places other than consumer spending. Most notably, activity in the industrial sector cooled this summer. That is clear from the downtick in August industrial production, a second straight monthly dip in durable goods orders in August, and at least one puny-looking regional survey of factory activity in September from the Philadelphia Federal Reserve district.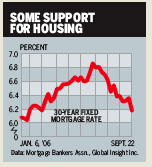 This production lull appears to be an inventory adjustment that should quickly run its course. Inventories appear to be growing a bit faster than businesses would like, although much of the imbalance is concentrated in the auto industry, where carmakers have cut output sharply in the third quarter.
The auto-led adjustment, along with the downdraft from housing, will have a negative impact on third-quarter economic growth, as measured by real gross domestic product. And the sharp drop in housing starts from June to August means the homebuilding slump could directly subtract up to a full percentage point from the quarter's GDP growth.
BUT THIS QUARTER'S overall GDP rate, to be reported in late October, will not tell you much about the future. For that, you have to look at what's happening in the key spending categories, in particular, outlays by consumers and businesses. So far through the quarter, demand in both sectors looks solid. Consumer outlays are on a growth path that is even faster than the pace in the second quarter, and the same is true for capital spending. Through August, orders and shipment of capital goods are far above their second-quarter averages. Plus, the full benefit of lower energy prices will add support to fourth-quarter demand.
Households are already feeling better about their prospects. The Conference Board's index of consumer confidence rose in September, to 104.5 from 100.2 in August, and this optimism should continue into October. Consumers' expectations for conditions over the next six months were the highest since April, and households were marginally more upbeat about jobs than they were in August. Not surprisingly, weekly retail reports so far in September suggest solid sales activity compared with the year before. If consumers have big concerns about the housing sector's weakness, they aren't showing it.
PERHAPS THE BIGGEST QUESTION in the consumer outlook, and one economists are sharply divided on, is the indirect impacts of the housing slump, specifically the waning amount of money homeowners are able to withdraw from the equity in their homes as home values level off. One camp believes equity withdrawal has been a big boost to spending, and as it ebbs, consumers will have to cut back substantially. The other group thinks the issue is a red herring, and that the more important factor for spending is overall household wealth.
So far, the resilience in consumer spending lines up better with the wealth argument than it does with the equity withdrawal story. Household net worth hit another record in the second quarter, lifted by continued net gains in home values, after subtracting mortgages. Overall wealth would have risen more if not for the quarter's stock market losses, but the market has since turned around, and overall net worth should post another solid advance in the third quarter.
Most homeowners are hardly suffering. True, the median price of existing homes declined in August by 1.7% from the previous year, the first such drop since 1995, says the National Association of Realtors. But consider that prices are up 22% from three years ago and 40% from five years ago. Those capital gains have added smartly to overall wealth, and it would take a draconian decline in home prices to erase them.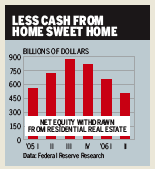 At the same time, new data from the Fed show the amount of cash homeowners are extracting from their home equity has dropped 43% since the third quarter of last year, to an annual rate of $497.2 billion in the second quarter. As a share of aftertax income, the amount has been cut almost in half to 5.2%. However, outside of the pinch from higher gas prices in the second quarter, consumer spending has shown little strain. Outlays could easily grow at more than a 3% annual rate in the second half, resulting in little if any slowdown in 2006 vis-à-vis 2005. The equity withdrawal crowd now argues that less cash from home values will slam spending in 2007. Stay tuned.
Clearly, the economy will not escape the downdraft from the housing market's return to reality. The question is: How bad will it get? For that, look to consumers. If the burden gets too heavy, they will be the first to buckle. But so far, they are carrying the load very well.
By James C. Cooper
Before it's here, it's on the Bloomberg Terminal.
LEARN MORE