Calm Those Fears About NeuroMetrix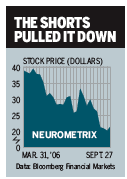 After NeuroMetrix (NURO ) (NURO) received inquiries about its marketing tactics, rumors of possible federal indictments pummeled the stock. The company, which disclosed the subpoenas voluntarily, doesn't expect further action. The Waltham (Mass.) startup sells devices to diagnose carpal tunnel syndrome and ills associated with back pain or diabetes. More than 4,000 of the units are in use at general practitioners' offices. The stock, priced at 8 in its July, 2004, initial public offering, surged to 40 in May but has fallen to 21.44, as the shorts piled in (43% of the shares have been shorted). "The [alleged] fraud is not substantiated; this stock is manipulated by the shorts," says Ryan Rauch of investment firm Jefferies (JEF ). In a Sept. 19 report, William Quirk of RBC Capital Markets (RY ) added: "Concerns are largely based on false information." Quirk says the stock is worth 50. There's fear in the market about the stock, says David Turkaly of Susquehanna Financial Group. Of course, he adds, "the [NeuroMetrix] technology is pretty disruptive, and the neurology community is unhappy because it sidesteps the specialist." NeuroMetrix was profitable five quarters after its IPO. For this year, Turkaly forecasts a 63% increase in revenues, to $55.8 million, and profits of $4 million (or $7 million, before stock option expenses).
Gene Marcial is on vacation.

Note: Unless otherwise noted, neither the sources cited in Inside Wall Street nor their firms hold positions in the stocks under discussion. Similarly, they have no investment banking or other financial relationships with them.
Before it's here, it's on the Bloomberg Terminal.
LEARN MORE