U.S.: The Fed Could Go Into Hibernation This Winter
Inflation worries are easing, and the overall economy is holding up well
If you're keeping a close eye on the Federal Reserve, you're probably in one of two camps: those who think the Fed's next move in the coming months will be a resumption of interest rate hikes, or those who believe it will begin to cut rates. Folks in the first group think the economy is generally strong and inflation won't subside. The other bunch believes inflation worries are overblown, since the economy is weakening ultimately to the point where lower rates will be needed to prop it up. Investors, who just want to know where to put their money, are caught in the middle as the markets hem and haw over the uncertainty about where policy is headed.
However, recent developments in several areas, especially energy prices, now suggest a third possibility, one that could be a boon for both stocks and bonds: The Fed might be content to sit on the sidelines for a very long time. There was nothing to dispute that notion after its Sept. 20 meeting, when the Fed decided to leave its target rate on hold, at 5.25%, for the second time in a row. On balance, the trends in inflation and economic growth appear to be closely tracking the favorable expectations the Fed layed out in its June forecast.
Based on the Fed's statement, policymakers still think the risks associated with attaining its desired paths for growth and inflation are slanted slightly toward the risk of more inflation. However, they also believe price pressures "seem likely to moderate over time," with lower energy prices helping toward that end.
The latest economic reports tend to agree. They indicate not only that inflation is looking a bit tamer than it did earlier in the year but also that growth in the second half is holding up well, especially consumer spending amid the ongoing weakness in housing. As long as those patterns continue, the Fed has no reason to jump back into the ball game.
THE NEWEST DEVELOPMENT helping to keep the Fed on hold is the drop in oil prices, which is a win-win situation for both economic growth and inflation. The Fed has been concerned that higher costs for energy and other commodities could fuel inflation as businesses try to pass along those increases to prices broadly. It has also worried that costlier energy, along with weaker housing and higher interest rates, could stifle economic growth.
Now, crude prices have dropped 19% from their mid-July peak of $77 per barrel, and wholesale gasoline prices have plunged 35% since early August, a decline that should translate fully into pump prices. Those developments are easing inflation worries in addition to boosting the purchasing power of consumers. The lift could be substantial -- and well-timed for the holiday buying season. The National Retail Federation is already predicting a solid 5% gain in holiday sales vs. 2005.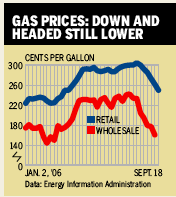 Costlier energy acted like a tax hike on consumer incomes, but now households are getting a "tax cut." Based on a back-of-the-envelope estimate, a 20% drop in gas prices from the third quarter to the fourth quarter could free up some $65 billion in households' aftertax income, which could be either spent or saved. If only half of that money were spent, it would add almost 1.5 percentage points to the fourth quarter's increase in real consumer spending, measured at an annual rate. A stimulus of that size could lift the quarter's overall economic growth by about one full percentage point.
It also would provide a sizable offset to the downdraft from weaker housing activity. Housing starts declined 6% further in August, to an annual rate of 1.67 million, the lowest level since April, 2003. Builders' assessments of the housing market in early September, as gauged by the National Association of Home Builders, slipped to a level last seen in the 1990-91 recession.
DESPITE WORRIES about a wider impact of the housing downturn, consumers continue to show life in the third quarter. Outlays for both goods and services, adjusted for inflation, began the quarter with the largest monthly increase of the year, and the key components of the August retail sales data that go into the government's measure of overall consumer spending showed another healthy advance. In fact, household buying is set to make a larger contribution to economic growth this quarter than it did last quarter.
Through the second quarter, newly updated numbers from the Federal Reserve show few signs that household wealth is suffering as a result of the weakness in home prices. Overall net worth last quarter hit a record, but it increased by only $54 billion, the smallest gain in almost four years. However, the slim rise was due mainly to a drop in financial assets, partly reflecting the stock market's lousy performance last quarter. Homeowners' equity, the net of real estate values minus home mortgages, continued upward, although at a slower pace. The stock market has since turned around, which should give a strong boost to third-quarter net worth.
LOWER ENERGY PRICES will also help businesses to cope. Companies are showing some strain from this year's runup in energy costs and higher interest rates, according to the Business Roundtable's latest survey of top executives at U.S. corporations. The Roundtable's fall canvass shows CEOs expect a slower pace for sales, capital spending, and hiring in the coming six months.
The survey results also illustrate the Fed's concerns about the pass-through of higher energy costs into final prices. In response to a special question, 54% of the CEOs said they were either "mainly able" or "partially able" to pass along these increases. However, the energy price drop will help to ease some of those inflation worries.
Even with the big energy declines yet to show up in the overall price indexes, the core indexes, which exclude energy and food, are already starting to move in the Fed's direction. After posting worrisome monthly increases of 0.3% for four months in a row, core consumer prices rose only 0.2% in both July and August. Core producer prices for finished goods looked even better: They fell 0.3% in July and 0.4% in August. Those drops reflected discounts for cars and trucks, but even excluding the discounts, core prices were tamer than they were earlier in the year.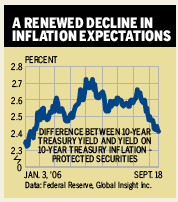 Perhaps more important to the Fed, cheaper oil and gas are helping to sedate inflation expectations, the containment of which the policymakers see as a crucial part of their strategy. Between the Fed's Aug. 8 and Sept. 20 meetings, the expected inflation rate implied in the financial markets by the spread between a 10-year Treasury note and a 10-year Treasury Inflation-Protected Security fell from 2.66% to 2.42%, the lowest reading for this measure since January.
Right now there are two main threats to the Fed's status quo policy. For inflation, the recent surge in unit labor costs could add fuel to companies' efforts to raise prices. As for growth, the housing slump's dimensions and repercussions are still unknown. But cheaper energy should help on both of those fronts, lending support to the Fed's objective of sustainable, noninflationary growth. That's a scenario investors of all stripes would be happy with.
By James C. Cooper
Before it's here, it's on the Bloomberg Terminal.
LEARN MORE