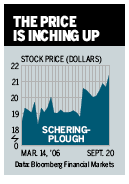 The buzz about Schering-Plough (SGP ) on Wall Street is that the company is in play. It may do a merger deal with Bristol-Myers Squibb (BMY ). Or it could be acquired by either Merck (MRK ) or Johnson & Johnson (JNJ ). Speculation swirled after Schering agreed to pay $435 million to settle criminal and civil charges of alleged fraudulent marketing and pricing practices -- without admitting any wrongdoing. It's the last of the big cases from the former management that CEO Fred Hassan, who took over in 2003, had to deal with. Shares inched up from 19 on Aug. 24 to 21.45 on Sept. 20. Rumors about Bristol-Myers' future moves arose after CEO Peter Dolan left the company on Sept. 12. The stock climbed from 19 in August to 24 on Sept. 20. A merger of equals "has merit' and could work, says Catherine Arnold of Credit Suisse (CSR ), which has done banking for both companies. Schering is a buy on its fundamentals, she says; a merger would be a bonus. Arnold says Bristol-Myers might be willing to pay a 30% premium, or 27 a share, for Schering. Barbara Ryan of Deutsche Bank (DB ) sees "strong strategic merit" in a merger with Bristol-Myers, which says it is "well positioned for growth" as an independent. Pros say that Schering might become a target because it has a joint venture with Merck for anticholesterol drugs Zetia and Vytorin, whose combined 2006 sales are expected to hit $3 billion. Also, it has marketing rights to J&J'S autoimmune drug Remicade/CNTO-148 outside the U.S., except Japan. Schering and J&J said they don't comment on speculation. Merck did not return calls.
Note: Unless otherwise noted, neither the sources cited in Inside Wall Street nor their firms hold positions in the stocks under discussion. Similarly, they have no investment banking or other financial relationships with them.
By Gene G. Marcial
Before it's here, it's on the Bloomberg Terminal.
LEARN MORE