Exports: Capital-Goods Companies Catch The Wave
Makers of capital goods are taking advantage of some favorable market conditions. A sustained period of strong demand abroad for machines, computers, and other equipment, along with a softening dollar, are allowing capital-goods exporters to raise prices. In August, export prices of capital goods increased by 0.5% from a year ago. It was the largest gain in over a year after prices fell during the later half of 2005 and through the first quarter of this year.
Not so long ago producers "showed a preference for gaining market share," says U.S. economist Brian Bethune at Global Insight Inc. There was a lot of spare capacity, so capital-goods makers kept dollar-denominated prices steady as the greenback began its slide -- starting in mid-2004 -- in an effort to become more competitive. Now that capacity utilization is above its long-run average, producers feel more confident about raising prices in order to offset higher production costs and maintain their profit margins, says Bethune.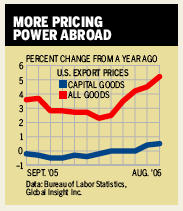 The resurgence of U.S. exports is being led by capital equipment as overseas business investment improves, particularly in the euro zone and in Japan. Exports of all goods and services through July have expanded by 12% vs. the same period in 2005, with capital-goods exports accounting for a disproportionate 35% of that gain.
Demand for U.S. capital goods should remain healthy. On Sept. 14 the International Monetary Fund raised its global economic growth estimates. The IMF now expects economic growth to clock in at 4.9% next year, on top of a forecasted gain of 5.1% this year.
That puts capital-goods makers in a position to benefit from any further weakening in the U.S. dollar. The dollar has already fallen 5% against a basket of major currencies this year. If the Federal Reserve stands pat, and other major central banks gradually raise rates over the rest of the year, the greenback is likely to face further downward pressure. Any signs of easing geopolitical tension would most likely lead to a softer dollar as well, since increased global certainty reduces the attractiveness of U.S. assets as safe-harbor investments.
By James Mehring in New York
Before it's here, it's on the Bloomberg Terminal.
LEARN MORE