A Shot In The Arm For Cleveland BioLabs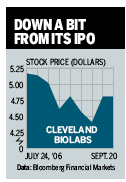 Cleveland Clinic Foundation, famous for treating heart ailments and cancer, has joined forces with Cleveland BioLabs (CBLI ), which received exclusive rights to its cancer and molecular genetic technology. So far, BioLabs has used the Clinic's technology to produce two drugs: Curaxins, now in Phase 3 trials, aimed at prostate and renal cancer; and Protectan, used to treat exposure to severe levels of radiation, both nuclear and radiographic. Cynthia Ekberg Tsai, general partner at Madelin Fund, which invests in cancer-related stocks, says BioLabs is a "timely buy," because for the first time the Cleveland Clinic can commercialize "its advanced and innovative technology for cancer and tissue protection -- through Bio-Labs." It went public on July 21 at 6 and is now at 4.80. The Clinic will provide $5 million a year in research and infrastructure, says BioLabs CEO Michael Fonstein. BioLabs has received grants of $9 million from the National Institutes of Health, Defense Dept., and NASA. And it expects $4 million more from various sources, mainly Defense, which is interested in Protectan. Stewart Flink of Crestview Capital, which owns shares, says Curaxins has killed human cancer cells transplanted into other primates. It is BioLabs' most promising new drug, says Flink.
Note: Unless otherwise noted, neither the sources cited in Inside Wall Street nor their firms hold positions in the stocks under discussion. Similarly, they have no investment banking or other financial relationships with them.
By Gene G. Marcial
Before it's here, it's on the Bloomberg Terminal.
LEARN MORE