Omniconfident About Omnicare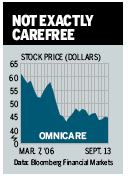 Omnicare (OCR ) (OCR), a leader in pharmacy services for health-care providers, has taken a shellacking since March. Shares plummeted from 60 to 44.16 following Omnicare's earlier disclosure of a probe into allegations of Medicaid fraud against the head of its Michigan unit. But most of the 14 analysts who track the stock remain bullish. John Maloney, president of M&R Capital Management, says Omnicare is the "dominant franchise in U.S. institutional pharmacies, and the case won't alter the fundamentals of its business." He has upped his holding and has a 12-month price target of 60. On Aug. 16, Michigan Attorney General Mike Cox filed 149 counts of Medicaid fraud against the head of Omnicare's Specialized Pharmacy Services, involving $5 million in alleged faked billings. Omnicare has set up a $53 million reserve for costs relating to the probe and says it is continuing talks with Cox. Lisa Gill of JPMorgan Securities (JPM ), which has done business with Omnicare, rates it "overweight." She says its "competitive advantage, size, and scale should lead to continued market-share gains." She foresees earnings of $2.98 in 2006 and $3.62 in 2007, vs. $2.48 last year.
Note: Unless otherwise noted, neither the sources cited in Inside Wall Street nor their firms hold positions in the stocks under discussion. Similarly, they have no investment banking or other financial relationships with them.
By Gene G. Marcial
Before it's here, it's on the Bloomberg Terminal.
LEARN MORE