Higher Wages Put The Squeeze On Profits
After much anecdotal evidence that Corporate America was finding it tougher to maintain its lofty profit margins, more concrete data are confirming the trend. What's more, rising employee compensation costs could cut into margins even further over the coming year.
The pressure on profit margins is occurring across most parts of the economy. A BusinessWeek tally of 900 public companies shows sales in the second quarter outside the energy sector jumped a stout 13% from the year before, yet profits grew only 4%, meaning profit margins have eroded.
The financial results are confirmed by government data. Revised second-quarter figures on productivity and cost show profits per unit of output produced by nonfinancial companies fell in the quarter leaving this measure of profit margins up just 8.4% from the previous year vs. a 16.5% gain in the first quarter. Even in manufacturing, where demand and productivity are strong, profit margins slipped and profits fell, even though sales posted a small increase.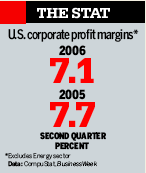 Rapidly rising labor costs are eating into profit margins. Among nonfinancial companies, the labor cost to produce a unit of output rose 2.6% from a year ago. The increase is an even bigger 5% when the financial sector and small businesses are included. At the same time, producers are unable to fully pass along the higher production costs.
There appears to be little relief on the horizon, according to the results of a September survey of economists by the National Association for Business Economics. Respondents raised their estimates for unit labor cost growth to 2.7% this year and 2.3% in 2007, but trimmed expectations for productivity gains and economic growth. The combination is a big reason why economists see profit growth slowing from 17% in 2006 to 4% next year.
Some businesses may see some of those higher wages return via stronger consumer buying. Any further declines in energy prices would also add a measure of relief. But it will not fully offset higher labor costs, as employee compensation accounts for nearly 70% of a company's total operating expenses.
By James Mehring in New York
Before it's here, it's on the Bloomberg Terminal.
LEARN MORE