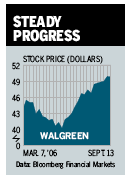 When the market gets choppy, go for the proven long-haul winners. So counsels Michael Schwartzman, president of ValueSearch Capital Management, who singles out Walgreen (WAG ) (WAG), the No. 1 U.S. drugstore chain, as a prime example. Walgreen, in which ValueSearch owns shares, is "well managed, with a conservative approach to accounting," and has avoided sorry surprises and earnings restatements, Schwartzman says. Since May its stock has shot from 39 to 49.31. In four years he sees it at 93 based on his earnings growth forecast. Walgreen operates 5,200 stores in 45 states and Puerto Rico. It was featured here on July 10, 2001, when it was at 29. Schwartzman is confident about the predictability of its earnings because they are driven by organic growth, not high-priced acquisitions that usually bring heavy debt. Walgreen's few buys, he notes, have been small independent chains that lacked the resources to battle with big rivals. Walgreen's prescription and non-pharmacy sales growth in 2005 beat those of the industry, notes Standard & Poor's, (MHP ) which rates it a "buy." Neil Currie of UBS (UBS ), who also pegs Walgreen as a "buy," forecasts above-consensus earnings of $1.74 a share on sales of $46.9 billion for fiscal 2006 ended Aug. 31. He says: "Walgreen deserves to be a core long-term holding." For 2007, Currie sees earnings of $2.01 on sales of $53 billion. Last year, Walgreen earned $1.54 on $42.2 billion. Currie's 12-month price target: 60.
Note: Unless otherwise noted, neither the sources cited in Inside Wall Street nor their firms hold positions in the stocks under discussion. Similarly, they have no investment banking or other financial relationships with them.
By Gene G. Marcial
Before it's here, it's on the Bloomberg Terminal.
LEARN MORE