Juiced About Medis Technologies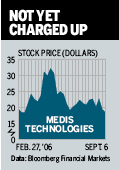 Although Medis Technologies (MDTL ) expects to start shipping its disposable fuel-cell "Power Pack" products by yearend, skeptics abound on the stock, now trading at 18.76. Some pros have sold short 7 million shares, equal to about 70% of the stock's free float. But Gary Giblen of broker Brean Murray Carret rates Medis a "strong buy" and has raised his profit forecasts from 50 cents to 54 cents a share for 2007 and from $1.50 to $1.60 for 2008. Production of the Power Packs for recharging electronic products, such as cell phones and iPods, is "running smoothly" at Medis' plant in Tel Aviv, says Giblen. That "makes [us] comfortable modeling slightly lower cost of goods"and higher profits, he adds. Arthur Gray of investment bank Carret, which owns Brean Murray and holds Medis shares, says the stock could hit 100 by 2008. Another bull, Otis Bradley of Gilford Securities, says the power needs of cell phones alone, which he estimates at 2 billion units, are escalating. The fuel cell is being tested by major mobile-phone outfits. Israeli Aircraft owns 5.3 million of Medis' 36 million shares outstanding, or 15%. Chairman and CEO Robert Lifton controls 9.5 million, Merrill Lynch (MER ) EnergyFund 2.4 million, and the Lester Crown family 2.3 million.
Note: Unless otherwise noted, neither the sources cited in Inside Wall Street nor their firms hold positions in the stocks under discussion. Similarly, they have no investment banking or other financial relationships with them.
By Gene G. Marcial
Before it's here, it's on the Bloomberg Terminal.
LEARN MORE