Job Trends: Another Reason To Get That Sheepskin
For Americans with a college degree, the labor market is far from weak. While overall hiring has settled into a modest pace, the labor market looks quite different depending on a worker's education level. And, based on current economic conditions, the divergence in job prospects according to educational attainment looks as if it may widen further.
The jobless rate for those with at least a bachelor's degree fell to 1.8% in August, from 2.1% in July. The latest level was the lowest since February, 2001. The Labor Dept. survey of households also shows that 57% of new jobs this year among those over 25 years old were filled by highly educated workers, despite their making up just a third of the workforce. "Education is the best predictor of employment status," says Wachovia chief economist John Silvia in a Sept. 1 research note.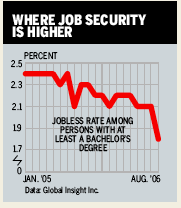 The strong demand for and limited supply of highly educated workers is translating into accelerating wage growth. The increase in average hourly wages from a year ago in industry sectors with the highest levels of workers with a bachelor's degree -- including finance and insurance, information, and professional services -- exceeded the overall yearly rise of 3.9%. Wage growth over the past year was below average in retail trade, manufacturing, construction, and transportation, where a majority of workers have no more than a high school diploma.
The divergence in labor market conditions could keep widening for the time being. Businesses continue to report a lack of highly skilled workers as a major issue, which means hiring conditions and wage gains should remain positive for better-educated workers.
Despite the solid growth in demand for manufactured goods, demand for some factory workers could keep sliding. U.S. automakers and suppliers are likely to keep cutting payrolls as a way to slash costs. Retailers, particularly department stores, are also cutting back on hiring, and the rapid decline in housing means fewer residential construction jobs. As demand weakens for these lower-skill positions, those still employed are also likely to see smaller wage gains.
By James Mehring in New York
Before it's here, it's on the Bloomberg Terminal.
LEARN MORE