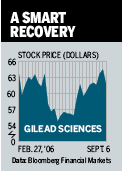 Most pharmaceutical companies are limping, but Gilead Sciences (GILD ) has sprinted from 53 to 61.54 this year. "Gilead's dominance in anti-HIV drugs continues to drive the stock," says Hans Danielsson of AIG Global Investment Group (AIG ), which owns Gilead shares. At 23 times the consensus 2007 earnings estimate of $2.63 a share, the stock is cheap, says Danielsson, and it has room to run. Better-than-expected second-quarter results showed that Gilead's "exciting products continue to widen its lead in that huge market," he adds. The Food & Drug Administration has approved several of Gilead's anti-HIV drugs, including Atripla, a stand-alone, once-a-day treatment launched in July. Jennifer Chao of Deutsche Bank (DB ) expects Atripla sales to rise from $135 million in 2006 to $2.2 billion in 2008. Chao, who rates Gilead a "buy," expects it to earn $2.43 a share on sales of $2.98 billion this year and $2.87 on $3.8 billion in 2007, up from 2005's $1.66 on $2 billion. Gilead's second-quarter anti-HIV drug sales of $475 million were above analysts' forecasts and 28% up from sales a year ago. Cameron Lavey of Standard & Poor's rates the stock a "buy" and says it deserves a premium rating because of its "predictable growth and dominant position" in the HIV market. He expects Gilead's earnings to increase by an average of 19% a year through 2010. His 12-month target for the stock: 72.
Note: Unless otherwise noted, neither the sources cited in Inside Wall Street nor their firms hold positions in the stocks under discussion. Similarly, they have no investment banking or other financial relationships with them.
By Gene G. Marcial
Before it's here, it's on the Bloomberg Terminal.
LEARN MORE