U.S.: Picking Up The Slack From Housing
Capital spending should contribute strongly to second-half growth
With all the attention the housing slump has garnered recently, another sector crucial to the economy's future performance has received short shrift: capital spending by businesses on new equipment and structures. Companies continue to show strong signs they are eager to expand their operations. Those outlays, along with the production, jobs, and income they create, promise to be a key factor keeping the economy chugging along in the second half even as housing weakens.
In fact, the overall outlook is playing out largely as most forecasters had envisioned at the start of the year. The main theme was a shift in the sectors contributing to growth: less from households, more from businesses. As housing and consumer spending slowed, capital spending and exports would take up some of the slack.
In reality, housing has been even weaker than expected but the rest of the economy has been surprisingly resilient. For example, after incorporating more complete data, the Bureau of Economic Analysis (BEA) says overall growth last quarter was a bit stronger than first reported. Real gross domestic product grew at a healthy 2.9% annual rate in the second quarter, up from the original estimate of 2.5%. The BEA also said corporate profits were strong, and it revised sharply higher the growth of workers' income.
July soundings on business outlays for equipment relieve a concern that cropped up in last quarter's GDP breakdown. Those numbers showed a dip in spending on new machinery and high-tech hardware and software. However, new orders have rebounded in recent months, putting that sector in a position to contribute strongly to third-quarter GDP growth.
Businesses are also investing in new factory and office buildings at a rapid rate. Business construction is recovering from a slump that began with the tech bust in 2000 and continued until a solid recovery began last year. In recent months outlays have accelerated, and the BEA now says spending for new structures surged at a 22.2% annual rate in the second quarter. The increase was nearly double the earlier estimate and the strongest quarterly advance in 12 years. After a dearth of new building, businesses are playing catch-up in the effort to meet demand for their products.
AMERICAN BUSINESSES are getting support from a number of sources. Most important, demand at home is holding up, and exports are booming amid robust growth overseas. U.S. consumers were clearly bummed out in early August by new Mideast turmoil, the terrorism plot unveiled in London, and high gas prices. The Conference Board's index of consumer confidence fell from 107 in July to 99.6 in August, the largest monthly drop since Hurricane Katrina and the lowest level of the year.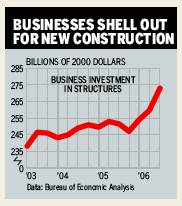 Still, spending signals so far show household buying got off to a good start this quarter, and the negative factors that depressed August confidence have subsided going into September. In particular, retail gasoline prices fell from a national average of $3.04 per gallon in early August to $2.85 at the end of the month, and wholesale gas prices plummeted by 24%. If the wholesale price stays at about $1.85 per gallon, pump prices could fall as much as 40 cents more by the end of September, a drop that would boost household buying power significantly at a time when labor income is picking up.
Perhaps the most important revision to last quarter's GDP numbers was a sharp upward refiguring of workers' income from wages, salaries, and benefits in both the first and second quarters. The BEA now says overall compensation last quarter, originally up 6.8% from a year ago, has grown 8.3%. That increase is double the rate of inflation and close to the booming pace seen in 2000.
Steady demand is pressuring existing production facilities as businesses try to keep up. The best example is the industrial sector. After a long period of stagnation, the growth of production capacity is picking up again, but over the past year it has grown only 1.9%. Industrial output, up 4.9%, is increasing 2 1/2 times faster. As a result, the average operating rate -- the amount of capacity in use -- has risen to a six-year high of 82.4% in July, a level that easily justifies adding on new capacity.
FOR MANY COMPANIES, financing their expansion is a no-brainer. With profits still soaring through the second quarter, cash flow is at record levels, and many outfits can finance their growth needs out of their internally generated funds. The BEA's economywide measure of corporate profits shows second-quarter earnings up a strong 20.5% from a year ago, the largest such advance in two years, although profit margins were squeezed a bit by rising labor and energy costs.
Even if profits slow as expected in the second half and companies' borrowing requirements pick up, the credit markets are still friendly and banks continue to welcome new business. For example, the spread between yields on moderately risky corporate bonds and riskless Treasury securities is lower than it was at the beginning of the year. A narrow spread indicates the credit markets attach only small risk to such borrowing. Borrowing rates themselves remain attractively low at about 6.4% for Standard & Poor's (MHP )-rated BBB securities, up from 5.6% this time last year, but still well below the 7% average over the past decade.
Based on the Federal Reserve's latest survey of senior loan officers, banks on balance further eased their lending standards on commercial and industrial loans to large and midsize companies at the start of the third quarter. Despite the Fed's 17 quarter-point rate hikes since June, 2004, banks have continued to ease their terms and conditions over that entire period.
THE NEED AND ABILITY to expand operations is evident in the recent monthly data on capital-goods orders and shipments. In July orders for equipment exclusive of the big swings in the defense and commercial aircraft sectors, which can distort the underlying trend, increased for the third month in a row. Orders for computers and electronic products were especially strong in June and July, and so far this year they are growing faster than they did for all of 2005.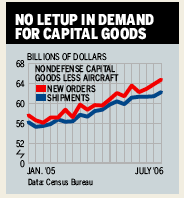 The trend in capital-goods orders is a key on-the-ground gauge of business confidence, since orders represent future financial commitments. Both orders and shipments of capital goods began the third quarter well above their second-quarter levels, and the backlog of unfilled orders keeps swelling. The backlog is up 14.2% from a year ago, and measured at an annual rate it has grown at an even faster pace in recent months.
With plenty of production and shipments in the pipeline, capital spending is set to be a key source of economic strength in the second half. Business investment in new plants and equipment directly accounts for more than twice as much GDP as housing. While housing has a broad indirect influence on the economy, the impact of capital spending may be even more important: As businesses invest more and expand their operations, they generate more jobs and income for consumers.
By James C. Cooper
Before it's here, it's on the Bloomberg Terminal.
LEARN MORE