The housing market's decline is moving on to the next stage. As home sales and construction activity deteriorate at a faster pace, job growth in areas linked to residential real estate is starting to ebb and even decline outright in some parts of the country where the housing boom has been the strongest.
State employment data show that construction payrolls in California have fallen by more than 11,000 workers during the six months through July. The number of construction workers in Massachusetts, Connecticut, and New Jersey has also fallen over the same period. Meanwhile, hiring in other housing hot spots, such as Maryland, Oregon, and Virginia, is beginning to slow.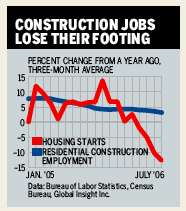 When it comes to work in other fields related to real estate, state data are more limited, but they do show some areas where growth is flagging. Among real estate agents and brokers in California, hiring in July cooled to a 4.8% gain from a year ago. That rise is below the 7.8% national pace as of July and is the smallest gain in the state since August, 2002. Hiring in Oregon for real estate-related financial activities increased 1.5% from a year ago in July, a significant slowdown from last July's 9.5% pace.
The state data are in line with recent trends in the national job figures. According to investment bank UBS (UBS ), residential housing payrolls, which includes construction, financial, retail, and professional services positions, declined by a total of 15,000 jobs in June and July.
The job market for residential construction could turn south more quickly now. July new home sales and housing starts posted the sharpest yearly drops since the mid-1990s, with big declines coming in the once red-hot West and Northeast. Other jobs linked to housing will also decline. The Federal Reserve's July survey of banks showed the largest share of lenders reporting a drop in mortgage demand since early 2000.
For states such as California, Maryland, and Virginia that experienced the hottest housing markets, the bust may be doubly painful since construction jobs also accounted for a disproportionate part of total job growth during the boom.
By James Mehring in New York
Before it's here, it's on the Bloomberg Terminal.
LEARN MORE