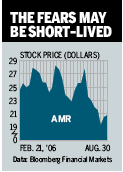 Terrorist threats and lofty oil prices have shaken airline passengers and investors alike. Little wonder, then, that airline stocks have slumped 20% to 30% so far this year. But some fund managers say now is the time to buy. "Contrary to dire forecasts, airlines will post heady profits in 2007-08," says Vincent Carino, president of Brookhaven Capital Management. His top pick: AMR (AMR ), parent of No. 1 American Airlines, whose shares tumbled from 30 in May to 20.83 on Aug. 30. AMR was featured in this column on Mar. 28, 2005, when it traded at 8.65. With revenues on the rise and costs flat to down, AMR's margins are fattening, notes Carino, whose firm owns shares. He thinks the industry's woes are fully reflected in the price. "Any drop in oil or easing in hurricane worries will drive up the stock," he argues. If oil averages $70 a barrel, AMR, which he expects to earn $1.90 a share this year, will make $4.50 next year. And if it drops to $50, he figures earnings will hit $8. Daniel McKenzie of Credit Suisse (CSR ) says investors who see past the current "ugly tape and look to next year will be rewarded." Concerns are outweighed, he says, by "our outlook that AMR can report near-record earnings in 2007." He rates AMR "outperform" with a 12-month target of 35. Zacks Investment puts consensus 2007 estimates at $3.52 a share and 2008 at $4.57, vs. a $4.10 loss in 2005. Fidelity owns 22 million AMR shares, or a 10% stake, after buying 1.6 million in June.
Note: Unless otherwise noted, neither the sources cited in Inside Wall Street nor their firms hold positions in the stocks under discussion. Similarly, they have no investment banking or other financial relationships with them.
By Gene G. Marcial
Before it's here, it's on the Bloomberg Terminal.
LEARN MORE