The Deficit: Less Red Ink For Foreigners To Mop Up
Foreigners continue to offer the U.S. plenty of help in financing its twin deficits in both the trade balance and the federal budget. And in the coming year, the financing burden for the budget deficit, at least, will be a lot smaller than expected, putting less pressure on foreigners to fill the gap.
According to the latest update of its budget projections, the nonpartisan Congressional Budget Office has sharply lowered its forecast for the fiscal year 2006 deficit to $260 billion, down from the $371 billion prediction in March. The 2006 gap is now expected to be only 2% of gross domestic product and to hold at 2.1% in 2007. That level is close to the long-term average and the lowest in four years. The improvement from 3.5% of GDP in 2003 is especially impressive, given the government's massive outlays for the war in Iraq, combating terrorism, and hurricane relief efforts.
The shrinkage is coming from a surge in revenues. So far this fiscal year, which began last October, receipts are up 12.8% from the same period the year before, with outlays up 7.8%. Government coffers are benefiting from the continuing strength in corporate profits through the second quarter as well as the acceleration in household income growth.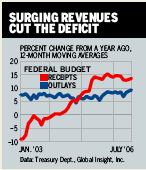 But according to economists at Barclays Capital (BCS ), revenue sources are shifting. The growth of receipts from profits has slowed this year, while revenues coming from households have picked up. The analysts say the trends suggest labor markets are tightening to the extent that households are starting to extract a bit larger piece of the income pie.
All this is not to deny the government's critical long-run problem in financing the retirement and health-care obligations of baby boomers. But for now, recent Treasury Dept. data show that foreigners boosted their purchases of U.S. securities for the second month in a row in June led by a surge in net purchases of Treasury bonds and notes. In June alone foreigners increased their buying of long-term Treasuries by some $27 billion. Over the past year, foreigners have ponied up $242 billion for Treasury bonds and notes, enough to finance 88% of Washington's smaller-than-expected pool of red ink.
By James C. Cooper, with James Mehring in New York
Before it's here, it's on the Bloomberg Terminal.
LEARN MORE