Housing: The Roof Won't Collapse On The U.S. Economy
As builders adjust their inventories, other sectors will offer plenty of support
It seems to be a foregone conclusion: The economy is slowing, perhaps sharply, as some pundits argue. Bond investors, at least, have taken the bait. Bond demand has surged, sending yields downward in recent weeks on the belief a softer economy will cool off inflation and allow the Federal Reserve to keep pressing the pause button on interest rates. The market for interest rate futures is even starting to build in an expectation that the Fed will start to cut rates early next year. July weakness in housing and some favorable-looking price indexes only support the slowdown scenario. Right?
Not so fast. Take a look at some of the economic readings outside of housing. Industrial production in July continued to gain momentum, not lose it, and the operating rate for all industry hit a six-year high. Consumers responded to sweet deals on autos in July, even as they boosted their spending on other retail items. Foreign demand also remained strong, as June exports posted another big gain. And second-quarter profits of companies in the Standard & Poor's 500-stock index racked up a solid advance of nearly 13% from a year ago, even excluding the energy sector. These reports hardly point to a broad moderation in economic activity.
All of this is not to downplay what is essentially a recession in housing. Housing starts sank further in July. Permits to begin new construction plunged close to a four-year low, and an industry measure of builders' sentiment sank to a 15-year low. Forward-looking indicators from declining mortgage applications to depressed attitudes of potential home buyers to moribund buyer traffic in model homes indicate more weakness to come. But as the numbers so far suggest, weak housing does not necessarily mean a soft economy.
RIGHT NOW, EVEN a passel of strong data cannot draw attention away from the weakness in housing, the economy's most visible and most vulnerable sector. The worry is the housing slump, which appears to be getting worse, will drag down the entire economy.
However, this housing cycle is different. In the past, housing downturns have been the result of high interest rates and broad economic weakness leading to rising unemployment. This time, housing is going through its own cycle, largely independent of wider economic conditions. The economy outside of housing remains solid: Unemployment is low, household incomes are growing, and 30-year fixed mortgage rates, at a bit over 6.5% in mid-August, are hardly onerous.
This housing recession is primarily an inventory correction, as builders adjust to the aftermath of the demand frenzy in previous years. This is squeezing prices of new homes, with attendant effects on existing home prices. However, the sharp drop in housing starts of more than 20% so far from the January peak implies builders are moving quickly to realign their stocks of unsold properties with the lower level of demand. The faster the adjustment takes place, the quicker the downward pressure on home prices will ease.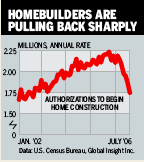 The Federal Reserve seems particularly sensitive to the housing downturn but believes the realignment will not cripple the economy. Indeed, data at the start of the third quarter suggest that key areas that showed substantial slowdowns in the second quarter, including consumer spending and business outlays for new equipment, are rebounding this quarter.
START WITH CONSUMERS. Retail sales in July jumped 1.4% from June, the best showing in six months. Even excluding the boost from auto sales, which hit a 17.2 million annual rate, up from 16.3 million in the second quarter, retail sales still rose a hefty 1%. And it wasn't just higher gas prices pushing up receipts at the pump. Sales of clothing and electronics were strong, as were catalogue and Internet sales.
One interesting point is that the housing downturn has not been accompanied by weakness in retail sales of home-related items. So far this year, sales at furniture and appliance stores have grown 13.1%, measured at an annual rate, and purchases at stores selling electronics and appliances are rising at an 11.6% rate. Both growth rates are more than double those for all of 2005. Moreover, sales at building materials and garden equipment stores are up 9.4%, only a bit below last year's 10.3%.
The retail performance puts overall consumer spending on a high level compared with the second quarter. It also hints at a greater contribution by households to economic growth this quarter compared with the modest 2.5% annual rate of increase in second-quarter spending. Of course, one month doesn't make a quarter, and household sentiment nose-dived in August amid the Israeli-Hezbollah conflict and a foiled terrorist plot in Britain.
However, as it has been true throughout this expansion, consumers don't always act the way they say they feel. The biggest reason is purchasing power: In the past year, workers' incomes from wages and salaries are up 6.8%, the fastest annual advance in 5 1/2 years and more rapid than the 4% increase in overall consumer prices. In the aggregate, household budgets have been squeezed by costlier energy, but as they showed in July, consumers still have some room to maneuver.
ANOTHER SECTOR offering signs of rebounding this quarter is business outlays for new equipment. The July report on industrial production showed manufacturing output rose a tepid 0.1% from June, but the softness fully reflected a steep 5.4% drop in auto production. Excluding automakers, factory output jumped 0.7%, led by a big gain in business equipment. For example, production of industrial machinery rose 1.9% from June, while high-tech gear, including computers, telecom hardware, and semiconductors, increased 1.2%.
Strong foreign demand for capital goods and other items is also powering gains in manufacturing. Export growth has been robust this year, especially from Asia. Adjusted for prices, exports of goods are up 11.4% in the past year, twice the increase in imports, and through June the growth rate in recent months has been even faster.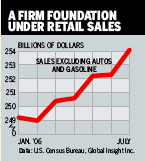 Meanwhile, businesses are shelling out big sums for new factories, offices, and warehouses. In fact, gains in business construction are more than offsetting the losses in homebuilding. Over the past three quarters, inflation-adjusted outlays for housing construction have fallen by nearly $12 billion, the largest three-quarter drop in 5 1/2 years. But business construction has soared $20 billion, the biggest advance in 5 1/2 years.
Strength in business structures and equipment output implies no big letup in capital spending, especially since spending plans remain strongly supported by surging profits, continued growth in consumer and foreign demand, and rising rates of capacity utilization.
Clearly, housing is exerting a drag on overall growth. But if the slowdown scenario envisioned by investors is going to play out as expected, there will need to be a lot more signs of softness outside of housing. So far, those signs are far from convincing.
By James C. Cooper
Before it's here, it's on the Bloomberg Terminal.
LEARN MORE