The Fed May Not Have Long To Catch Its Breath
The trend in labor costs suggests it might need to resume hiking rates
After 17 rate hikes in 17 meetings dating back to June, 2004, the Federal Reserve finally gave investors what they had been pining for: a pause. But no sooner did the Fed's Aug. 8 policy statement hit the newswires than another concern cropped up: Is the Fed really finished? Or will it have to resume raising interest rates against a persistent inflation threat?
Clearly, if Richmond Fed President Jeffrey M. Lacker had his way, the target rate would have been lifted by another quarter-point. Instead, the other nine policymakers voted to take a breather, leaving the rate at 5.25%. Lacker's dissent suggests there may be growing concern about inflation among other policymakers. The nay vote gave the decision to pause a hawkish tone, and it suggests a risk of more policy tightening.
The Fed's majority statement contained the usual caveats covering the relevant inflation worries stemming from tight labor markets, rising pressure on production capacity, and higher energy prices. However, the policymakers expressed confidence the economy was slowing and said "inflation pressures seem likely to moderate over time." That's a big gamble the Fed seems willing to take, at least for now.
The headline numbers in July's employment report fit the Fed's outlook. They were soothing to investors and undoubtedly provided policymakers with credible justification for a pause in rate hikes that Wall Street could accept without worrying the Fed was going soft on inflation. Payrolls, up 113,000 from June, increased modestly for the fourth month in a row, and the jobless rate rose from 4.6% to 4.8%. The numbers suggested the slowdown was on schedule, and that inflation would ultimately subside.
However, another report was much more worrisome. The Labor Dept.'s revised numbers on productivity and labor costs show trends are much less favorable for keeping core inflation, which tracks prices outside of energy and food, under control. The report, which came out on the morning of the Fed's meeting, offers new evidence that the pressures on businesses to lift prices are coming from labor costs, not just from high-priced energy and other commodities.
LABOR'S NEW DATA on productivity and costs may turn out to be more important to future Fed decisions than July's tame-looking jobs data. Central bankers had noted in their three previous statements how "ongoing productivity gains have held down the rise in unit labor costs." Those trends had helped the Fed to tolerate the recent uptick in core inflation because they suggested the rise would prove temporary. Now, the support for such thinking looks shaky. In fact, the Fed completely omitted the long-standing phrase from its Aug. 8 statement.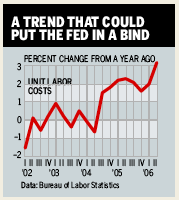 The new cost trends suggest this year's rise in core inflation might have deeper roots. Productivity, measured as output per hour worked, rose a slim 1.1% from the first quarter. More important, revised data now show productivity over the past two years has grown only 2% annually, the slowest two-year pace in eight years. Earlier numbers through the first quarter had shown two-year efficiency gains averaging 2.7% per year. In other words, productivity growth, while still pretty good, is not offsetting rising labor costs as much as had been believed.
What is especially disconcerting for the inflation outlook, though, is the Labor Dept.'s steep upward revision to workers' hourly compensation. Over the past year, hourly wages and benefits have grown 5.7%, more than double the 2.4% pace of productivity. And unit labor cost, or the average cost of making one unit of a product, has accelerated sharply over the year, recently up 3.2%, the biggest surge in 5 1/2 years. Old data through the first quarter showed unit costs barely rising.
These trends are critical to the Fed's thinking about the economy's potential to generate inflation, and they might have played a role in the Fed's split vote. History shows accelerating unit labor costs, if not contained, can fuel a sustained pickup in inflation, which is difficult for the Fed to reverse without substantial economic pain.
DESPITE LAST MONTH'S MODEST increase in payrolls and the rise in the jobless rate, other indicators show labor markets remained quite tight as the second half of the year got under way. Weekly unemployment claims heading into August remain low, which does not suggest either a steep or lasting slowdown in job growth.
Also, a gauge of job security, the percentage of unemployed people who voluntarily left their last jobs, shows no new concern about market conditions. On the contrary, even as job growth has slowed over the past four months, the share of job leavers averaged 12%, the highest in almost five years.
Indeed, one factor pushing up the jobless rate in July might well reflect the job market's strength. Economists at J.P. Morgan Chase (JPM ) say all of July's 248,000 rise in unemployed people were reentrants into the labor force who had previously stopped looking for work. These workers have been pulled back into the job hunt, perhaps by the lure of faster wage growth. The rise in reentrants was the largest in a decade.
However, there appears to be a growing mismatch between the skills companies need vs. the skills of people seeking work. The July rise in joblessness was concentrated among workers who either had dropped out of high school or had only high school diplomas. This observation meshes with the latest Management Barometer from PricewaterhouseCoopers. Senior executives rank a shortage of qualified workers and pressure to increase wages as two of the top three barriers to growth over the next year, along with energy costs.
ONE IMPLICATION for economic growth, however, is that tight labor markets will push wages higher and boost the spending power of consumers. Workers' income from wages and salaries in the second quarter rose 6.8% from a year ago, the fastest such pace since late 2000 and well above the energy-driven 4.3% increase in consumer prices. In July, hourly wages of production workers showed another strong gain, putting them 3.8% ahead of a year ago. Factoring in the 2.2% increase in hours worked over the past year, the income of production workers continued to grow about 6% in July.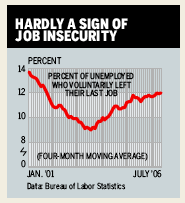 This partly explains why consumer spending held up pretty well in July. Car buyers responded to a new round of sales incentives and pushed vehicle sales to a 17.2 million annual rate last month, vs. the second-quarter average of 16.3 million. The month's report on chain-store sales looked upbeat, and consumer confidence remained buoyant.
Despite the weakness in housing, overall demand is not clearly cooling enough to ease inflation pressures. Until it does, businesses will try to pass along higher labor and energy costs into the prices for their final products. The Fed paused in August, believing inflation will slow, but if demand and labor market pressures prevent that from happening, investors will need to brace for more rate hikes.
By James C. Cooper
Before it's here, it's on the Bloomberg Terminal.
LEARN MORE