Hiring Shifts To A Lower Gear
The next employment report, due on Aug. 4, is likely to show another month of tepid job growth. Indeed, some key employment indicators are looking a bit bearish, and economists are ratcheting down their forecasts. What's more, if the Federal Reserve is right, weaker employment gains are here to stay for the rest of the year.
So far this year, the number of temporary workers and those hired by employment placement agencies and employee leasing services is down by nearly 32,000. Trends in employment services often foreshadow broad hiring trends. Temporary workers are generally the first in when companies need more help and the first to go when conditions soften.
Since the Labor Dept. began tracking employment services hiring back in 1985, there have been four other periods when payrolls in this category have fallen over a six-month stretch. In all but one instance, nonfarm private payrolls also fell. The only exception was a very brief dip in 1995 that was followed by a short but sharp slowdown in overall hiring.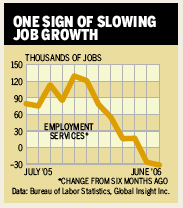 Other employment indicators look less optimistic as well. Through May, the Conference Board's index of help-wanted ads has dropped three straight months to the lowest level in over 40 years. And while initial jobless claims remain low, the total number of jobless persons collecting benefits is turning up.
Three months of lower-than-expected job gains along with rising and volatile energy prices have economists lowering expectations for July hiring, to around 145,000 jobs. But gains in July and the rest of the year could be weaker, based on the Fed's revised economic projections. The central bank is forecasting a jobless rate between 4.75% and 5% by yearend, up from 4.6% in June.
In the past, the rule of thumb was that monthly job gains consistently running under 150,000 would lead to a rising unemployment rate. In his testimony before Congress on July 19, Chairman Ben Bernanke lowered that number to around 130,000 because of demographic shifts in the labor force. If the Fed is right about the uptick in the jobless rate, then further tepid numbers on payrolls will be in store.
By James Mehring in New York
Before it's here, it's on the Bloomberg Terminal.
LEARN MORE