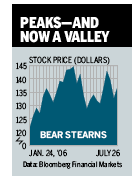 Volatility is a broker's friend, and the market's recent swings have produced outsize gains for some of the biggest brokerages. "Shares of the group have outrun the rest of the financial sector this year," notes Bernie Schaeffer, president of Schaeffer's Investment Research. The uptick in mergers and acquisitions has helped. His top pick is Bear Stearns (BSC ), fifth-largest in the industry. "It's the most undervalued," he argues. Bear Stearns, known for its strength in fixed-income trading, mainly in mortgage and high-yield securities, trades at 136.40 down from nearly 148 on Apr. 20, but Schaeffer expects it will hit 200 in a year. It changes hands at just 10 times 2006 estimated earnings, while Goldman Sachs (GS ) and Merrill Lynch (MER ) both trade at about 12 times earnings, notes Schaeffer. Although Bear's second-quarter results beat forecasts, naysayers argue that its mortgage business is bound to slow because of rising interest rates. But Meredith Whitney of CIBC World Markets, who rates the stock "overweight," notes that it has performed better this year than most other large-cap brokers because its mortgage business exceeded all forecasts. Another bull, Michael Hecht of Bank of America (BAC ), says "strong profitability" will continue to "narrow the valuation gap vs. its peers." Hecht figures Bear Stearns will earn $13.79 a share this year and $14.15 in 2007, vs. $10.31 in 2005.
Note: Unless otherwise noted, neither the sources cited in Inside Wall Street nor their firms hold positions in the stocks under discussion. Similarly, they have no investment banking or other financial relationships with them.
By Gene G. Marcial
Before it's here, it's on the Bloomberg Terminal.
LEARN MORE