U.S.: If Oil Keeps Flowing, Growth Will, Too
Capital spending and exports will keep the economy moving ahead
Globalization brings everything closer to home -- including geopolitical instabilities and the risks they create for economies and markets. Once again, tensions in the Middle East have boiled over, this time between Israel and the Hezbollah in Lebanon, and worries about a wider involvement by Iran and Syria have tacked on yet another risk premium to the price of oil and thrown the financial markets for a loop.
As a result, the economic outlook has come under a new cloud of uncertainty. Just when consumers and businesses seemed to be coping -- if not so easily -- with oil at $70 per barrel, the concern now is oil at $80 or more, and not one hurricane has even formed yet. Note that at the end of 2005, BusinessWeek asked more than 50 forecasters where the price of oil would be at the end of 2006. The average expectation: about $54 per barrel.
The price of oil is crucial to the outlook right now because its impact could extend far beyond the consumer sector's grumbling about $3-per-gallon gasoline. It is also adding to inflation pressures outside of energy, as seen in June consumer prices and as noted by Federal Reserve Chairman Ben Bernanke during his congressional testimony on July 19. That could portend even higher interest rates that would affect the economy broadly.
So far, data through the second quarter are encouraging for the second half of the year. As Bernanke remarked: "Although growth in household spending has slowed, other sectors of the economy retain considerable momentum." Steady strength in capital spending and exports is waiting in the wings to take up much of the slack from slower consumer spending and housing. But an oil fiasco could thwart that script.
The real danger is not so much higher oil prices per se but a sustained supply shock resulting from a major interruption in the supply of crude. Hurricane Katrina is a mini-example, but those supply problems lasted weeks, not months. A long-term disruption would restrict production and demand, while generating uncertainty among businesses that would cut deeply into capital spending and hiring, not just in the U.S. but in all oil-consuming economies. At the same time, it would greatly increase inflationary pressure, leaving the Fed in a no-win situation of rising inflation and a flagging economy.
FOR NOW, THAT'S ONLY a worst-case scenario preying on investors' minds. As long as crude remains free-flowing, the danger of yet higher oil prices is not as great, given the continued evidence of strong supports beneath U.S. and global demand.
Those supports were clear in the second quarter. Despite oil at close to $70 for nearly all of the second quarter, economic growth last quarter appears to have held up surprisingly better than many forecasters had expected, after oil prices jumped from below $65 in March to more than $75 in April.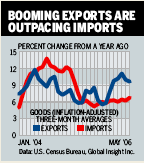 The Bureau of Economic Analysis will report its first estimate of second-quarter real gross domestic product on July 28. Many economists are upping their earlier growth estimates based on recent reports on exports, industrial production, and inventory growth. Even though consumer spending and housing slowed last quarter, the overall economy appears to have grown in the neighborhood of 3%.
Consumer spending was hardly weak, though. Based on the monthly data on retail sales, real household spending appears to have grown at about a 2.5% annual rate. That's only half the pace in the first quarter, but it's still a pretty respectable gain given the surge in gas prices and rise in interest rates. And the spike in tax receipts in the second quarter, reported by the Treasury Dept., suggests that household income growth remains strong.
IN THE SECOND HALF, consumers are unlikely to supply the economy with much oomph, but that will not be the case for exports and capital spending as long as oil keeps flowing. In fact, one of the biggest surprises this year has been the power generated by exports. Shipments abroad grew so strongly in the second quarter that the trade deficit, after adjusting for inflation, appears to have narrowed, making a small positive contribution to last quarter's economic growth.
The May trade data show that exports of goods and services jumped 2.4% from April, the largest monthly gain in a year and a half. Looking only at the important goods sector and adjusting for inflation, exports so far this year are up 10% from last year, considerably faster than the 6.2% increase in goods imports.
Exports are benefiting from strong global growth and a more competitive dollar. The broad trade-weighted greenback is down nearly 14% from its peak in early 2002. The decline has been large enough and has lasted long enough to alter the buying patterns of foreigners. In fact, economists at JPMorgan Chase & Co. (JPM ) calculate that the U.S. share of world exports has now stabilized after a long period of decline, thanks mainly to the lower dollar and overseas growth over the past year of about 4%, faster than the 3.6% pace in the U.S.
Barring a major oil shock, strong growth abroad seems likely to continue. Although central banks in Europe and Japan are tightening policy, including Japan's first interest rate increase in six years, financial conditions remain relatively easy. The inflation-adjusted, or real, policy rate remains considerably lower in Europe than in the U.S., and real rates in Japan will remain negative for many months. Asian economies generally remain strong, supported in part by China's booming economy, which grew 11.3% in the second quarter from the previous year.
A GLOBAL BOOM IN CAPITAL GOODS, as businesses in the U.S. and overseas expand by investing in new plants and equipment, is the main trade story. During the past three years, the volume of U.S. trade in capital goods -- exports plus imports -- has ballooned by 45%. Adjusted for inflation, U.S. exports of capital goods have surged 46%, and imports coming into the U.S. have grown 47%.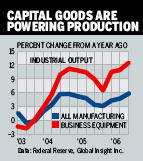 U.S. manufacturers are reaping many of the benefits, as seen in June's broad 0.7% advance from May in factory production. Output grew nearly as fast in the second quarter as it did in the first. Over the past year, production has increased a healthy 5.9%, powered by a 12.3% advance in output of business equipment, with high-tech gear, such as computers, telecom equipment, and semiconductors, up 21.9%.
Manufacturers offer a key illustration of why U.S. businesses are expanding their operations. Over the past year factory output has grown more than twice as fast as industries have added to their capacity to produce. As a result, the rate of capacity utilization in June hit a six-year high of 81.1%.
Clearly, oil at $80 per barrel would further depress demand in the second half. But for the past two years, consumers and businesses have weathered the effects of costlier energy amazingly well, as incomes and profits have grown. If $70 oil hasn't sent the economy into a recession, then $80 oil won't, either. If someone turns off the spigot, however, that's another problem entirely.
By James C. Cooper
Before it's here, it's on the Bloomberg Terminal.
LEARN MORE