Profit Margins: The Big Squeeze Is On
Corporate America's amazing pace of profit growth is ebbing. In the face of higher energy and materials prices, a tighter labor market, and slower economic growth, companies are finding it harder to sustain current profit margins. Not only will that have an impact on earnings, but it might also affect job growth.
More companies saw profit margins deteriorate, according to a National Association for Business Economics second-quarter Industry Survey. Out of the 170 businesses surveyed, those that saw margins rise outnumbered those that reported a fall, but the difference was the narrowest since 2003. In the finance and goods-producing industries, including manufacturing and construction, more respondents saw margins shrink than widen.
An inability to fully pass along higher input costs, such as energy and raw materials, is catching up with companies. The share of businesses able to raise prices in the second quarter was 27%, while nearly two-thirds said that materials costs rose. Going forward, just over a third of those surveyed will try to lift prices, vs. 62% who see costs growing.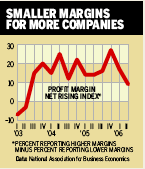 This trend is echoed in Morgan Stanley's (MS ) latest analyst survey. The share of analysts who said the companies they cover saw margins squeezed by higher material or labor costs hit 36% in July, up from 29% in June.
The latest figures on inflation validate what businesses and analysts are saying. In June, increases from a year ago in wholesale prices of crude and intermediate goods ran at more than twice the 4.3% pace for consumer price advances.
Because companies have been able to maintain solid productivity gains and cut costs elsewhere in order to lift margins, hiring and capital spending have been solid in most industries. But hiring could slow as margins begin to narrow. The NABE survey showed that only 31% of respondents plan to add workers in the coming six months, down from 44% in the first quarter. Meanwhile, investment plans for the year remain upbeat, as companies strive to squeeze out even more productivity gains in an attempt to preserve past margin improvements.
By James Mehring in New York
Before it's here, it's on the Bloomberg Terminal.
LEARN MORE