business
Ruthless Focus on the Customer
From the Mini Cooper to Whole Foods, companies and brands are discovering how superior customer experience keeps 'em coming back for more
Jeneanne Rae
Customer experience is one of today's great frontiers for innovation. While the concept isn't exactly new—it was coined by designers and became more widely known to the business community through the work of Joe Pine and Jim Gilmore's 1998 Harvard Business Review article and subsequent book Welcome to the Experience Economy—in my estimation we are still at the dawn of the Experience Age. And, it is my prediction that in this new age, customer experience will decide the winners and losers in almost every industry imaginable.
Here's why:
1. Raving Fans. Superior customer experiences are still so novel that when we encounter one we tend to talk about it to others. Ask anyone who has bought a Mini Cooper lately and you'll see what I mean. This kind of viral phenomenon creates positive buzz in the marketplace, and is often even more powerful as a tool to generate revenues than the most expensive traditional marketing programs.
2. Loyalty. A stable revenue base of existing customers makes it much easier to increase both the top and bottom lines. Here's an example: 80% of Starbucks' (SBUX) revenues come from customers who visit their stores an average of 18 times a month.
3. Premium Pricing. Customers will gladly pay more for an experience that is not only functionally but also emotionally rewarding. Companies that are skilled at unlocking emotional issues, then creating economic value propositions that win with consumers, avoid commoditization.
4. Differentiation. The degree of choice in most goods and services is—well—bewildering, to say the least. Standing out from the crowd assures a better likelihood of getting picked in the first place; sustained positive customer experiences reduces the possibility of churn afterwards.
These elements are the holy grail for product and service companies alike, but as the recording made by an AOL (TWX) user trying to cancel his account shows, even "customer-service representatives" often don't get it.
WHAT'S "UNDER THE HOOD"?
  Having studied dozens of Customer Experience exemplars, it seems to me that these companies share a set of integrated business disciplines that act as "engines" for delivering fantastic experiences. The automotive metaphor works especially well in this case. Think about the structure of the component parts, the integration required, and the quality of fuel used to make the engine go. Now, imagine this machine is your corporate capability. Where is your engine likely to take you? Consider these insights:
MOMENTS OF TRUTH.
  Great customer experiences start with the "moments of truth." These moments of truth occur at the key touch points in a customer's journey with his product or service environment. Starwood Hotels (HOT), owner of the "W" and Westin chains, was the first hospitality company to focus on the quality of its in-room customer experience.
For Starwood customers, the moment of truth comes when they first walk through the door of their hotel room and see the bed. Following through on a hunch and willing to experiment with new ideas, Starwood believed that clean and sumptuous linens would strike an emotional chord with their clientele. Many people had that "yick" feeling upon seeing a dark-colored bedspread they perceived as dirty, covering the place they were expected to relax and sleep.
It probably didn't make a lot of operational or financial sense to go with all white bed linens, but the loyalty and buzz factors paid for it in spades. Although other hotel companies are copying the idea today, Starwood had a seven-year exclusive run with its Heavenly Bed to help drive loyalty.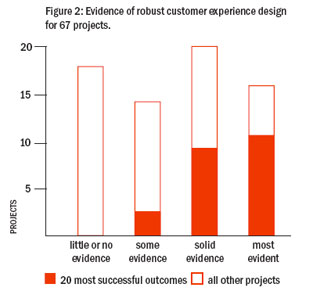 Peer Insight's investigation of sixty-seven recent service innovation projects revealed that the most successful projects among them exhibited a commitment to designing a compelling customer experience, through the use of tools including: empathic research methods, customer journey mapping, rapid prototyping, touch point design, and the use of tangible artifacts.
BRAND VALUES.
  Well-articulated brand values serve as the customer experience "North Star." In a world of competing alternatives, brand values provide the guidance and constraints for creative teams to design appropriately.
The Whole Foods (WFMI) experience is a wonderful example. Everywhere you look in its store, the brand values abound: sell the highest-quality foods, satisfy and delight customers, support communities, promote environmental stewardship, and so on. The brand leads the experience from the smallest unit of measure which, over the course of multiple experiences within one or more stores, adds up to one big satisfying experience for this company's loyal customers. God (and tons of profit) is in the details.
TECHNOLOGY AND PEOPLE.
  Link information-technology strategy with human-resource models to create mass customization. Most companies these days use customer-relationship management databases to identify you and manage your transactions. Beyond this perfunctory capability, we have found that companies whose systems are turbocharged to deliver sophisticated insights regarding customer behavior and lifestyles have an edge in developing great customer experiences.
This enhanced level of customer intimacy allows companies to act on patterns that suggest how to reorganize their human resource practices to drive better, more personalized, experiences for customers, and more profit for the corporation at the same time. Studies have shown the highest return on operational investments comes from fostering repeat customers—making training, and incentives for front-line staff of critical importance.
Bottom-line magic can happen when technology can be deployed to keep customers happy and coming back. While this has been practiced successfully for years by select companies such as Ritz-Carlton, Progressive Insurance (PGR), and Harrah's Entertainment (HET), there is still huge room for retailers and business-to-business companies who can see and cater to the whims of their most profitable customers through the strategic deployment of both technology and people. As a place to start to develop sustainable competitive advantage, this one rocks. But caution to the faint of heart and wallet—big investments are required that don't necessarily pay off immediately.
CO-CREATION.
  Entrust your customers to co-create their own experience. The next level of value for product and service companies is not only mass customization, but co-creation of the entire experience.
This phenomenon is at work when people say, "TIVO (TIVO) has changed my life!" Those of us in the non-DVR world know what it's like to view TV these days—500 channels with nothing to watch—it's worthless.
Enter a machine that allows you to see what you want when you want it and bingo! TV is a whole new game in which the viewer makes the rules. This is value creation city for discerning people who want TV to work for them instead of vice versa. Let's face it, to cope with the modern world, we all need and want more control. Co-creation mechanisms deliver value in many forms, foster individuality, and reduce unneeded stress due to lack of control.
AN ECO-SYSTEM APPROACH.
  Use an eco-system approach to orchestrate numerous business models that drive customer value. The starting place for customer-experience design is not a company's existing set of manufacturing or operating competencies, nor is it necessarily the traditional distribution channels. The customer doesn't care about these things; customers care about what they want when they want it, and they turn to the easiest place to get it—however cobbled together.
Already known for seamless software and hardware solutions, Apple Computer (AAPL) capitalized on the considerable number of usability impediments in the nascent MP3 market. Before the iPod, Apple wasn't a service company per se. Although I'm sure it wasn't easy—building services in product-based companies never is—Apple took up the challenge to deliver what the latent needs of the market suggested: an easy-to-maneuver ecosystem, controlled exclusively by Apple, that provided solutions for a group of related needs.
For Apple, the iPod ecosystem includes hardware, software, the iTunes site—first with songs and now with video and accessories—virtually everything you need in one place. Although each one of the components has a different cost structure and revenue model, Apple was able to orchestrate its pricing in a way that made great economic sense to the consumer, resulting in massive market-share gains. Strategists take note: This was highly integrated, systems thinking at work, which is uncommon in most large companies. Any mature company that can pull this off deserves the Academy Award of business.
As each of these examples show, the starting place for great customer experiences is—the customer.
START WITH THE CUSTOMER.
  As a person who has worked in design for most of my business career, there is a piece of me that would love to report that creating great customer experiences is just a matter of design content.
There is no doubt that design methods and thinking are essential in getting to the value equations and ultimate manifestations of customer-centric solutions. However, from these examples you can also see an intense level of strategy, integration of technology, orchestration of numerous business models, brand management, and tremendous corporate commitment at work.
In other words, if you want to build a customer experience engine, then customer experience must be everyone's job. My recommended first steps? Get everyone from all functional areas in your company on the same page about why Customer Experience is essential to survival in our competitive business world. Then start designing your engine for success.
Before it's here, it's on the Bloomberg Terminal.
LEARN MORE