Korea's Phone Vibrates to Music
Moon Ihlwan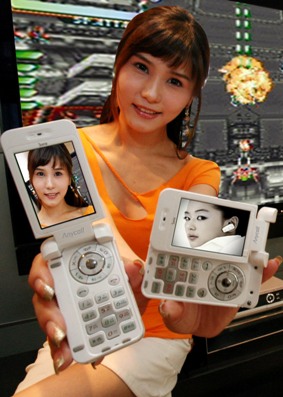 Ever missed an important call during a meeting or at a cinema? Now you don't have to keep looking at the screen of your phone to check if the call you are getting is the crucial one you are waiting for -- at least in Korea. On July 21, Seoul-based Samsung Electronics, the world's No. 3 mobile phone maker, rolled out a phone that vibrates to the beat of music ring tones. It allows the user to download up to 10 different music ring tones and allocate them to either 10 different persons or groups of people, and when the phone is set on a vibration mode, the distinctively different vibration patterns tell the holder who the caller is.
The phone, using U.S. company Immersion Corp.'s vibration technology, was developed at the request of SK Telecom, Korea's largest wireless carrier. SK, which earned about $60 million last year by selling ring tone and ring-back tone music, is now offering 500 CD-quality music ring tones that also make the phone vibrate to the beat. The download of a 40-second music ring tone costs 80 cents and a 60-second tone 90 cents.
The $630 Samsung phone, SCH-B450, also packs a TV receiver, a 2 mega-pixel camera, a MP3 music player, a gamer that vibrates, and Bluetooth connectivity to printers and other gizmos. Its screen also opens upward or sideway to suit TV viewing and gaming.