Keep the Big Picture in Mindand Heart
After her son died suddenly, our Savvy Selling columnist focused on working smarter and playing harder with her family
Michelle Nichols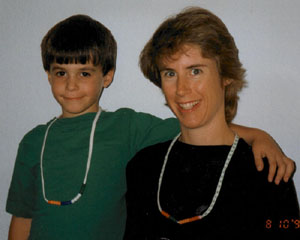 Savvy Selling columnist Michelle Nichols with her son, Mark, who was claimed by brain cancer July 20, 1998.
Have you ever thought about the meaning of life? Or more specifically, the meaning of your life? Even though my column, Savvy Selling, focuses on growing your sales, I hope the meaning of your life is bigger than "making quota" or "closing a whopper-sized account." I got a wake-up call to the meaning of my life eight years ago.
I was happily married, the mother of a son and a daughter, and everything was great. Then the doctors thought our son, Mark, had the flu—and 11 days later, he died of brain cancer. He was eight-and-a-half-years old, and he didn't live to start the fourth grade.
As the saying goes, "When you lose, don't lose the lesson, too." As many people can attest, having a loved one pass on suddenly is about a big a loss as can be imagined. Here are some lessons I've learned since our son died.
1. Viva La Familia! For me, the meaning of life is to make the world as great as possible for those we love, our family. "Family" can mean your spouse and/or kids—or maybe your pet hamster, your entire community, or even all your fellow earthlings. In our case, we adopted a toddler from Texas three years after Mark died. When people ask me what kinds of kids I have, I say "boys, girls, biological, adopted, and deceased." We also have dogs, frogs, and a turtle. Wow!
One way to remember your family is to hang a photo of them where you can see it when you're working. That might be next to your computer monitor, on the wallpaper of your cell phone, or the visor of your car. For example, I put a photo of my kids in a beautiful, heart-shaped luggage tag and hung it on my purse. It reminds me and subtly tells my customers of the importance of my loved ones.
2. Work hard. When you're working, focus on how to sell more in fewer hours. Any fool can sell more in a longer period of time. When you increase your sales per hour, you earn the freedom to go home earlier with more energy.
Two strategies to selling faster are qualifying and upselling. To qualify your customers better, improve your questioning skills so you waste less time with folks who can't or won't buy from you. That frees you up to spend more time with folks who are more likely to become your customers in the near future.
Upselling is to sell additional products or services when your customers are already buying something. It not only improves your sales productivity, it also creates a closer connection to your customers. Now they have more opportunities to experience how great it is to do business with you. To upsell better: For every major product you sell, make a plan with several other offerings and your sales will soar.
3. Play hard. Just as you plan your work, plan your family fun time too. Schedule time to hang out with them and do things together. Don't just watch the same DVD that you've seen 20 times—rent a new one, or better yet, play a game of chess, or go outside and play catch. The goal is to build an enormous reservoir of memories. That way, no matter what the future holds, you'll have lots of experiences you can look back on and laugh about.
4. Set limits. Set clear time boundaries for when you're not working. If you have to, leave your business cell phone, laptop, or PDA in your car during your downtime. In your phone's outbound message or e-mail program's auto-responder, assure callers that you will handle all urgent messages first thing when you return to work. Then relax and enjoy your time off.
5. Tell and show your love. Don't keep your love for your family a secret in your head and heart. Why not buy wonderful cards for each member in your family today? Then give or send them all in the next 24 hours. Tell each of them how terrific you think they are and how important they are to you. I guarantee you'll both feel great.
The summer Mark died, he had gone to a day camp run by schoolteachers. They made every student keep a daily journal. Each day, he recorded what they did, what he ate for lunch, and "I miss Mom." After camp was over, I teased him about this sweet comment but he wasn't embarrassed; he loved—and missed—me. What a gift he left behind.
6. Be outrageous. Share your crazy, wacky side with your family. Show them there's more to you than bringing home the bacon. Come home for dinner in a gorilla suit, write a family song, or whatever else sounds fun to you. For example, I recently took my kids to a monster truck rally. My children were really surprised because we had never gone to anything like this.
They were doubly amazed when they saw how expensive the tickets were because they know I am normally pretty careful with my funds. Once inside, I bought each of us a pirate flag to wave. We learned later that it was the symbol of the meanest, baddest monster truck, "The Gravedigger." The whole event was very loud and dusty—and we laughed our heads off the entire time. A priceless memory.
As I travel around and speak to corporations and organizations about how to sell more, towards the end of my talk I usually tell them about our loss of Mark. My desire is that my ideas help them increase their sales and my story helps them to have a more meaningful life. I hope Savvy Selling does the same for you. Happy selling!
P.S. Care to comment? Please write to me or add a comment below.