The latest look at inflation by the Bureau of Economic Analysis showed May prices, excluding food and energy, were up 2.1% from the year before. While this core measure is the popular way to gauge underlying price pressures, most consumers feel inflation is higher. Indeed, alternative measures by regional Federal Reserve banks back up those perceptions.
According to the Federal Reserve Bank of Dallas' inflation gauge, called a trimmed-mean index, prices rose by 2.5% in May, the largest yearly gain since December, 2001. This measure uses the monthly personal consumption expenditure (PCE) price data. But instead of stripping out food and energy, the components with the biggest gains or declines for the month are excluded, leaving behind about half the components.
While food and energy can be volatile, standard core inflation measures don't adjust for large one-time jumps or drops in other categories. Such sharp moves can "prevent you from getting a clear signal of the trend in inflation," says James Dolmas, senior economist at the Dallas Fed. So the Dallas Fed's May measure excluded an unusual 1% fall in men's and boys' clothing.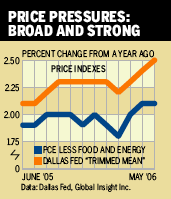 Another gauge, the Federal Reserve Bank of Cleveland's "median" consumer price index posted a 3% gain in May vs. the 2.4% yearly pace in the Bureau of Labor Statistics' core consumer price index. The Cleveland Fed ranks the CPI constituents in ascending order. It then uses the monthly change of the middle, or median, category.
Both measures provide a better way than the CPI or PCE to assess the breadth of price pressures in the economy. The number of components in the PCE price index that have posted monthly gains of 0.4% or more has gone from nearly 14% in December to 33% in May. This broadening shows up better in these alternative inflation measures.
Investors believe the Fed's June 29 policy statement indicated a greater chance that interest rates will not be hiked in August. These alternative inflation measures suggest, however, that price pressures may be even stronger than the mainstream indexes imply.
By James Mehring in New York
Before it's here, it's on the Bloomberg Terminal.
LEARN MORE