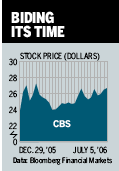 With CBS (CBS ) stock up from 25.50 to just 26.74 since the spin-off from Viacom (VIA ) on Jan. 3, some think the patience of Sumner Redstone, chairman of both Viacom and CBS, may wear thin. Unless things improve, Redstone, who controls 73% of the Class A voting stock of both, may opt for a CBS breakup, believes Mark Boyar of Boyar Asset Management, which owns shares. He was one of the first investors in Dow Jones to urge its board last year to sell. Nothing may happen for a year, but private equity investors are starting to look. The assets of CBS, which has a market cap of about $20 billion, are worth 40 a share, he figures. Boyar thinks a breakup would be logical, given CBS's "extraordinarily low valuation and the obvious value" of its assets. Viacom held on to Paramount Home Entertainment, MTV, and Nickelodeon. But CBS has TV networks, 178 radio stations, and billboards, says Boyar. The company just sold its theme parks to Cedar Fair (FUN ) for $1.2 billion. Richard Bilotti of Morgan Stanley (MS ), which has done business with CBS, notes that CBS is trying to sell radio stations in 10 markets. That could fetch $670 million to $720 million, he figures. Some analysts don't expect much lift from regular CBS business. Tuna Amobi of Standard & Poor's (MHP ) says the stock is under pressure because ad spending is down. He expects it to earn $1.69 a share in 2006 and $1.77 in 2007. Meanwhile, CEO Leslie Moonves is trying to nudge the shares up by improving CBS's network ratings and by raising dividends -- the stock now yields 2.7%. CBS declined comment. Viacom spokesman Carl Folta also would not comment.
Note: Unless otherwise noted, neither the sources cited in Inside Wall Street nor their firms hold positions in the stocks under discussion. Similarly, they have no investment banking or other financial relationships with them.
By Gene G. Marcial
Before it's here, it's on the Bloomberg Terminal.
LEARN MORE