What's Polishing Up Southern Copper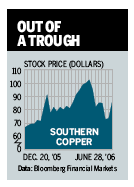 Southern Copper (PCU ) (PCU) WAS A SURPRISE beneficiary of Phelps Dodge's (PD ) $21.1 billion offer on June 16 to buy nickel miners Inco (N ) and Falconbridge (FAL ). How so? "The move by Phelps reaffirms our belief that the shine in metal prices will last much longer than many expect," explains Carl Birkelbach of Birkelbach Investment Securities. He also thinks Southern is potential takeover bait. It had dropped from 105 a share on May 11 to 70 in mid-June but, in the wake of the Phelps news, rebounded to 84.43 on June 28. Birkelbach, who likes to buy when companies are facing setbacks, stocked up after the shares fell below 100. Now he expects Southern, which produces copper in Peru and Mexico, to hit 110 as copper prices recover from their recent decline. "Southern's robust 15% dividend yield is a come-on," he adds. Most analysts have shied away from Southern because of a strike at its Mexican mines, which produce 50% of its copper. Even so, the stock still "looks compelling," says Daniel Altman of Bear Stearns (BSC ). He rates Southern "outperform" with a yearend target of 125, based on the "scarcity value" of copper stocks, the "robust dividend," and the sound fundamentals.
Note: Unless otherwise noted, neither the sources cited in Inside Wall Street nor their firms hold positions in the stocks under discussion. Similarly, they have no investment banking or other financial relationships with them.
By Gene G. Marcial
Before it's here, it's on the Bloomberg Terminal.
LEARN MORE